Top Ten Things to See and Do in Thailand
A diverse nation offering unique and wonderful experiences that attract visitors from all around the world, there is something so special about Thailand that never ceases to charm. From its culture to its beaches, its wildlife to its cuisine - there is so much to see, do, and discover in Thailand, and you'll find that just one trip here will instantly leave you yearning to return time and time again. It can at times get a little confusing knowing just how to spend your time in Thailand, so we've compiled a list of 10 of our favourite things that this destination has to offer, so you can really get the most out of your first trip to Thailand.
1. The Grand Palace
The Grand Palace is undoubtedly Bangkok's most famous landmark, and at over two hundred years old it has seen a lot of change having been home to the King, Royal Court and Government. Its intricate architecture is a tribute to the creative craftsmanship of the Thai people and still has visitors awestruck at its sophistication. Guides are available to tell you the stories of the palace as you discover its inner secrets, or you can just wander around and take in its artistry. The Grand Palace still remains the spiritual heart of the Thai kingdom.
Visit the Grand Palace on this 12 day Bangkok Northern Thailand itinerary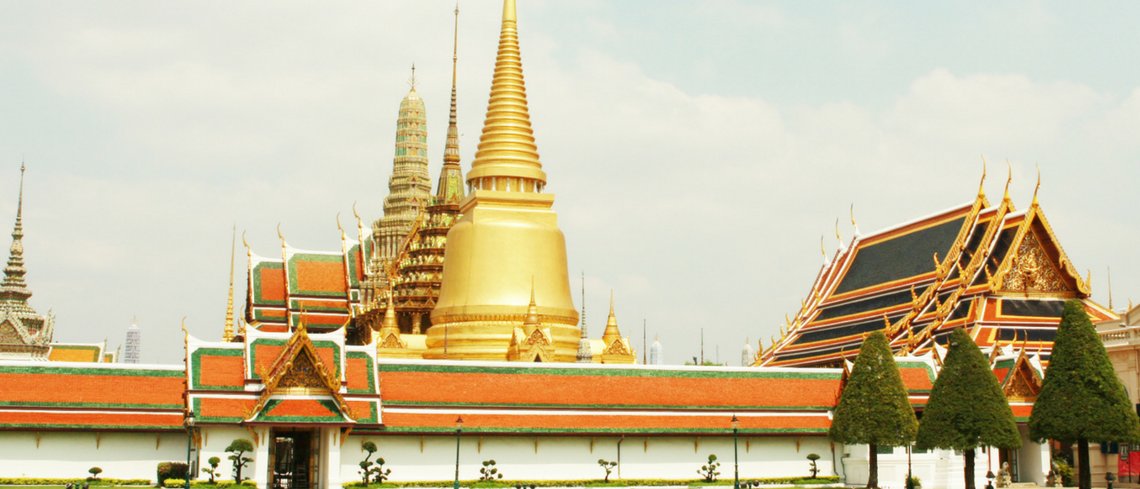 2. The Golden Triangle
A peaceful untouched landscape in the Chiang Rai region of northern Thailand, and the point at which Thailand meets Laos and Burma, and where the Ruak and Mekong rivers join. A landscape of lush jungle, mountains, and rice paddy fields - which earned the area its name of the 'land of a million rice fields'; and is home to the colourful Akha and Yao Hill Tribes.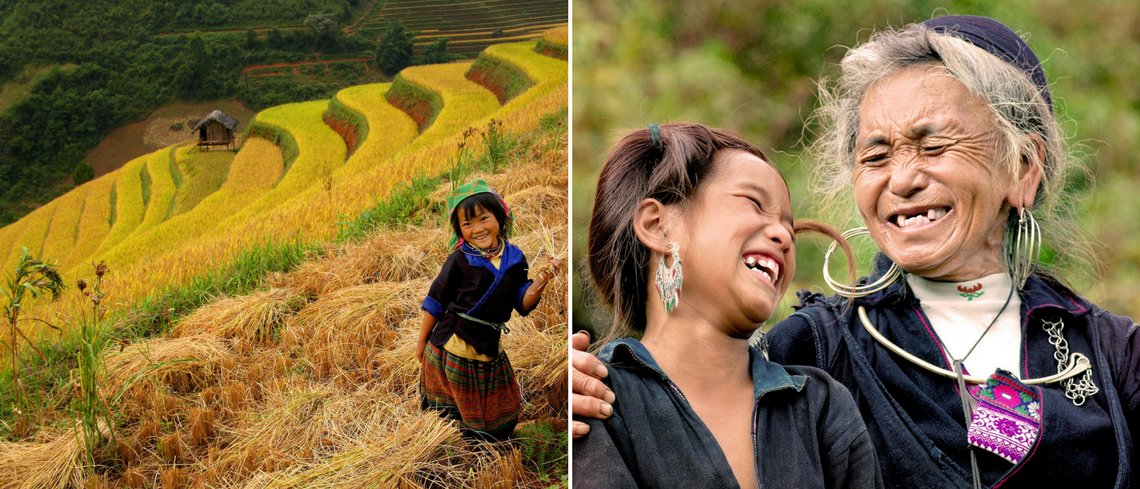 3. Elephants Abound
Get up close and personal with Thailand's national symbol. The elephant is revered across the country and even has its own day in the calendar – National Elephant Day falls annually on 13 March. At one of Thailand's many elephant camps, you can learn to 'drive' an elephant, enjoy a jungle safari, learn about their biology as you walk with the herd and their Mahouts through the jungle, watch them play at bath time, or show off their working skills.
Enjoy an elephant interaction experience on our 13 day family adventure in Thailand itinerary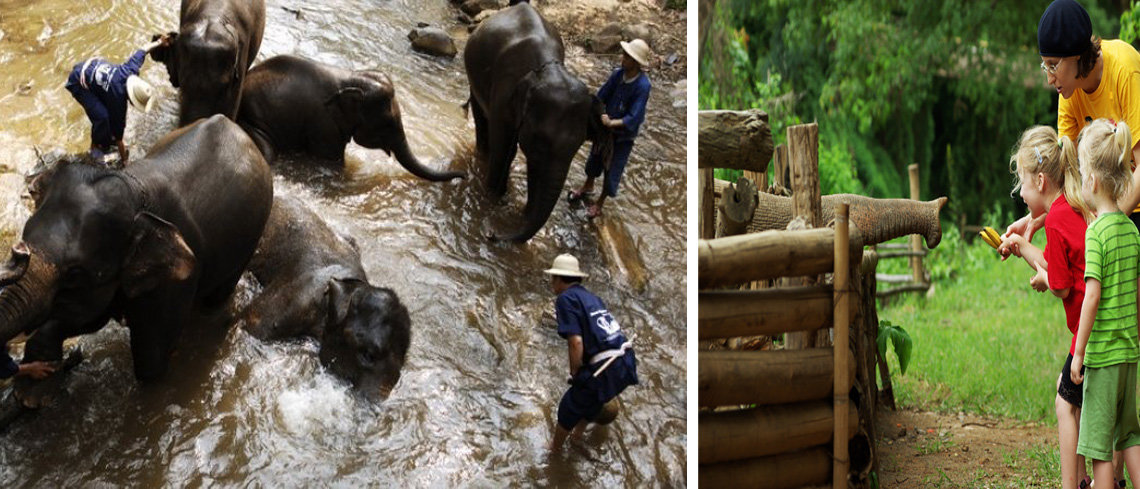 4. Island Hopping
With 5,000 miles of coastline, and a plethora of islands sitting like forested jewels in The Gulf of Thailand, and the Andaman Sea, there is no excuse not to head out to sea to explore. Jump aboard a longtail boat and discover tranquil bays with white sand beaches, and swaying palm trees. On the way, you could drop into one of the many vibrant towns. Some beaches can get busy by day, but quieten down after sunset offering the perfect spot for a meal and a tipple.
Go on a romantic island hopping experience with this 16 day romantic Thailand itinerary
5. Hill Tribe Villages
There are hill tribes living across the breadth of northern Thailand. As well as the Akha and Yao Tribes who live in The Golden Triangle, there is the Hmong Tribe which lives in the mountains of the Phi Pan Nam Range, and the Karen Tribe, who have settled near the Thailand/Myanmar border. These colourful communities will welcome you into their midst, enabling you to interact with them, learn more about their culture and discover a completely different way of life.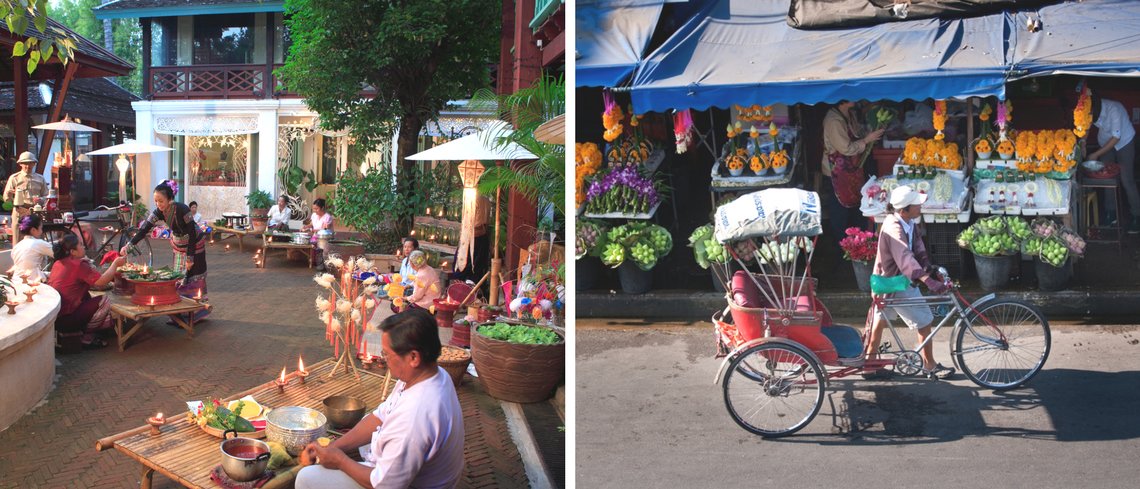 6. Festivals
Thailand is a country of colour, history and culture and there is no better way to experience this than to attend one of their wonderful festivals. January brings the bright and buzzing Bo Sang Umbrella Festival in Chiang Mai, and in February the city holds it spectacular Flower Festival, with floats, festooned with flowers, parading through the streets accompanied by marching bands. April brings the Songkran Water Festival, Thai New Year, which is celebrated with playful water fights and a parade of pretty parasols. March and June bring you music, with the Pattaya International Music Festival and the Hua Hin Jazz Festival. If you are looking for action then head for the Buffalo Racing Festival in Chonburi and watch with anticipation as the riders' balance and agility, and the buffalo's speed is put to the test. November brings possibly one of the most enchanting festivals, Loy Krathong - the Festival of Light. Baskets traditionally made from banana leaves or bark, ornate with candles, flowers and sweet smelling incense, are floated onto the water and a wish is made. It is believed that bad luck is carried away and the person who floated the basket is given a new start.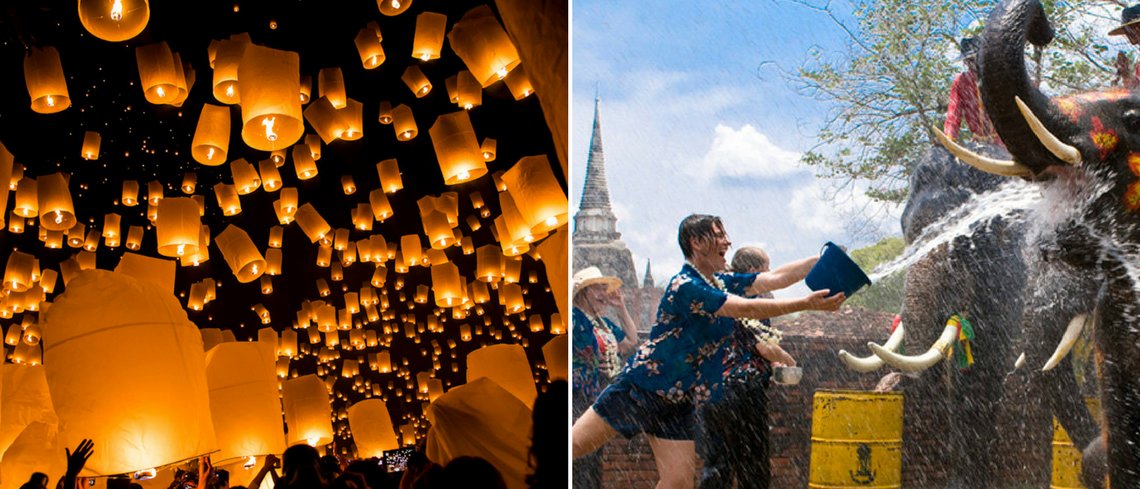 7. Floating Markets
Floating markets are popular with locals and visitors alike, many can be found in Bangkok and its surrounding provinces. At the weekend boats loaded with souvenirs and decked out as floating food 'stalls', moor on the water with vendors eager to do business. The whole community gets involved with Amphawa's Floating Market providing a whole host of 'stores' to browse, and taste sensations to set your taste buds tingling. Damnoen Saduak, about an hour and a half from Bangkok, is a popular tourist haunt and attracts large crowds, but you can escape most of the hustle and bustle if you hop onto a canal boat. Khlong Lat Mayom is a more relaxed experience, situated in southern Bangkok, in the shade of leafy trees, with lots of shops and many tantalising food options. Taling Chan is great for the seafood lovers among us, offering crab, roasted prawns and snakehead fish. The newest of the floating markets, Bang Nam Phueng, also offers a relaxing atmosphere and is easy to wander around or to just sit amongst and watch the world go by.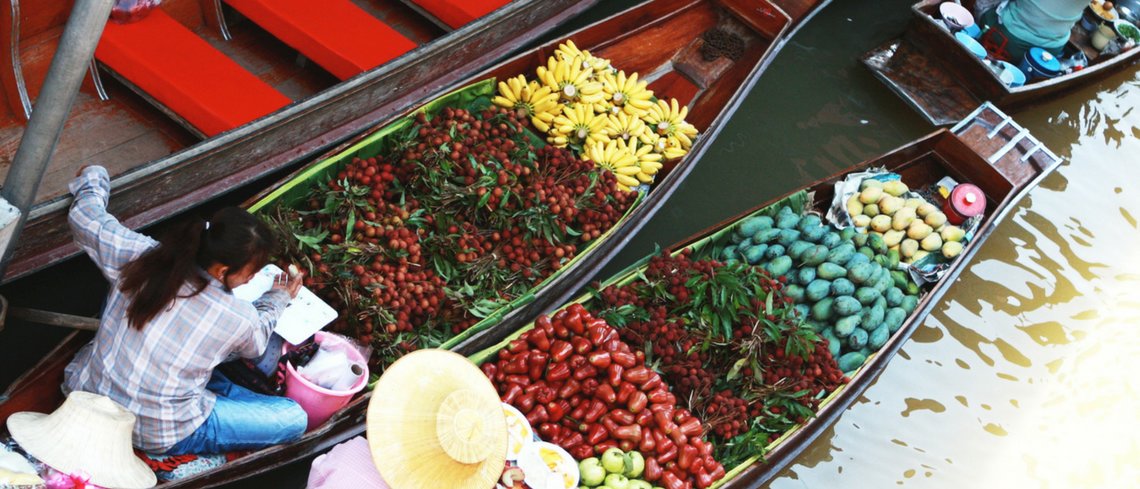 8. Kanchanaburi
A slightly more sombre note, but an area of exceptional historical poignancy, is that of the Death Railway and Bridge over the River Kwai in the Kanchanaburi province. The town of the same name is full of WWII memorials and museums, a reminder of darker times. The Death Railway, and Bridge over the River Kwai, where built by Prisoners of War (PoW) under the watchful eye of Japanese engineers. The PoWs suffered horrendous working and living conditions and many didn't make it home. It is now a place that tourists visit, in order to find out more and to remember.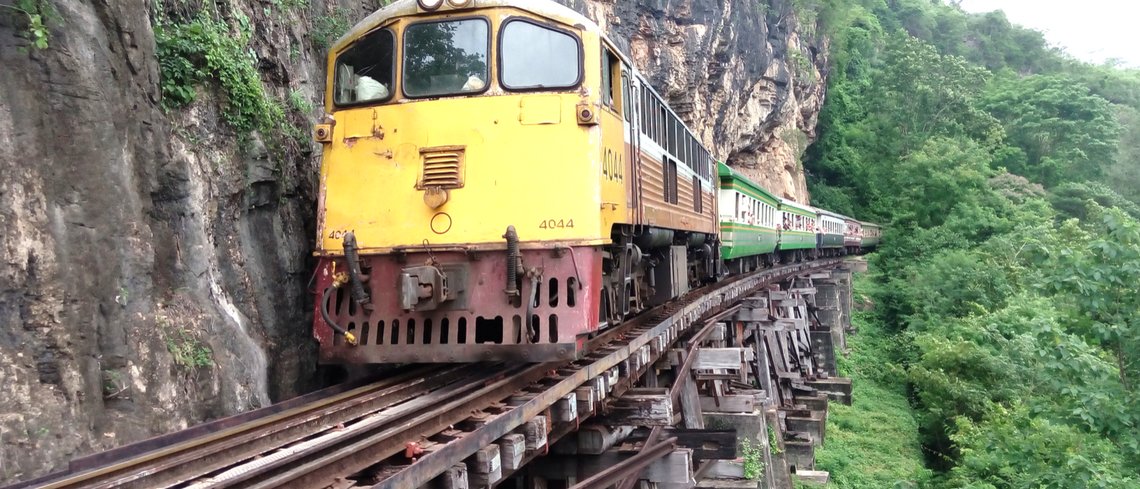 9. National Parks and Ancient Ruins
Thailand is a naturally rich country with breath-taking landscapes, and a host of National Parks, UNESCO World Heritage Sites, waterfalls, and ruins. Find Thailand's highest peak in Doi Inthanon National Park, Chiang Mai. The Khao Yai National Park, in Nakhon Ratchasima, is also a UNESCO world heritage site and boasts one of Asia's largest monsoon forests. Sai Yok National Park in Kanchanaburi has a beautiful landscape of limestone mountains, waterfalls, caves, and it also has a few extremely rare inhabitants including tigers, wreathed hornbills, and white and blue queen crabs. Khao Sok National Park in Surat Thani is covered by, what is claimed to be, the oldest rainforest in the world, with sparkling lakes, towering limestone mountains, deep valleys, caves, amazing wildlife and so much more - a national park that is often considered the best in Thailand. For a look deeper look into Thailand's history head for Phimai Historical Park, in Nakhon Ratchasima, or Phanom Rung Historical Park in Buri Ram where you will see 12th Century Khmer ruins.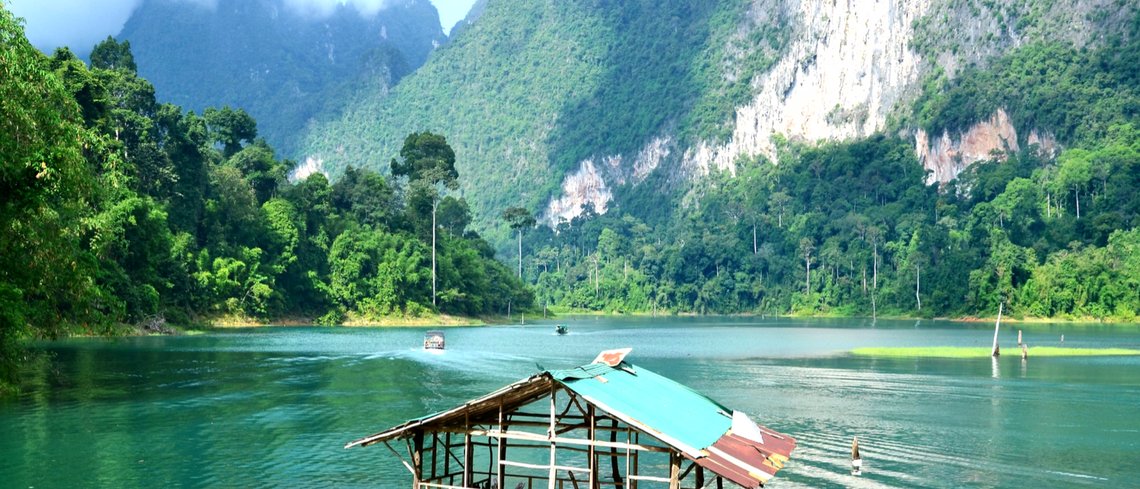 10. Thai Cuisine
Thailand is brimming with culinary delights, and you will be thrilled when you realise just how tasty their cuisine is, so much so that eating is bound to become one of the highlights of your trip. Choose from goodies including Tom Yam Goong, a soup fragrant with lemongrass and lime leaves, chillies and fish sauce. Pad Thai, a noodle dish containing bean sprouts, spring onions, and chicken, prawns or tofu, lifted by fish sauce, sugar and chilli and finished with a dusting of peanuts. Kao Phad, a great staple of fried rice with egg, coriander, peas and tomatoes. Som Tam, a dish from northeast Thailand which has reached near cult status, consisting of spicy, sweet and sour papaya salad, sometimes with the addition of BBQ chicken and sticky rice. This is just the tip of the iceberg with green and red curries, massaman and a whole host of other flavour sensations that will ensure your taste buds and tummies feel truly spoilt.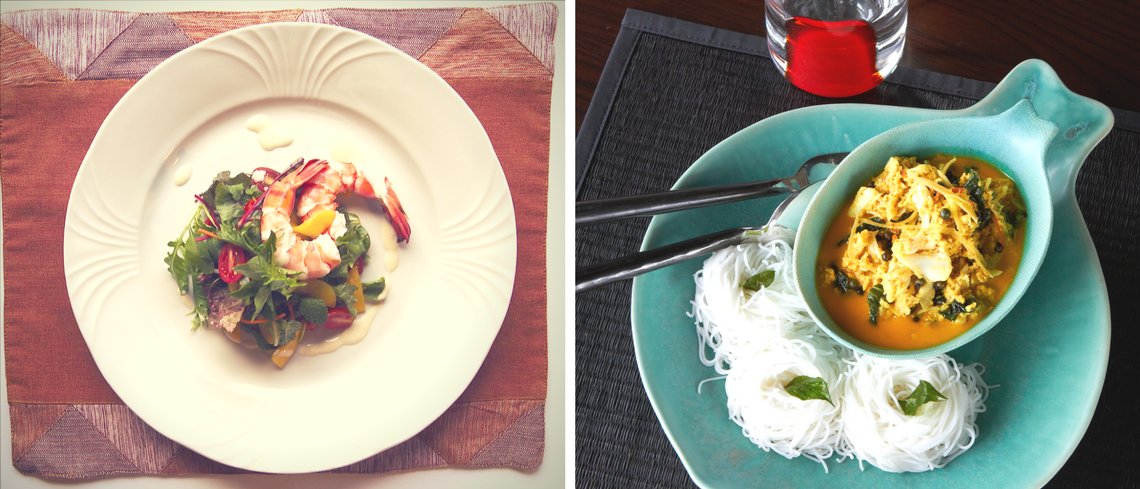 Thailand has so much to offer its visitors - for more information or to talk to our experts about your bespoke holiday itinerary click here or call 020 7843 3531. Alternatively, head over to our Thailand supplement page where you can find all kinds of information Thailand sure to make planning your next trip a breeze.