Thailand Travel Diary: Bangkok
Our travel specialist Jess recently returned from a trip to Thailand and shares her experience of her time in Bangkok. Known as the gateway to Asia, this vibrant and bustling city offers so much to see and do, with Jess having the chance to tour the city, take in sights such as Wat Pho, explore the nightlife, do some shopping and more, find out what she thought:
Day 1: Bangkok
The second I stepped through the doors at Suvarnabhumi Airport in Bangkok I knew I was in for a treat. Late May, monsoon season was beginning to close in and the air was incredibly thick and humid, stepping outside was more akin to entering a greenhouse; luckily for me after some wet and windy weeks in the UK I was more than happy to be greeted by the heat. Evidence of today's earlier storm remained on the ground in the form of puddles as we made our way to the car to be transferred to the hotel. Driving through the streets on a Friday evening things seemed so much calmer than I was told to expect of Bangkok, particularly at the weekend, and our driver informed us that today was a public holiday marking Buddha's birthday meaning many would be in the temples celebrating tonight. Checking into our hotel we were instantly greeted with a refreshing glass of sunflower juice before being lead to dinner to sample some delicious Thai cuisine, although we were told with the spice dialled down to suit our more delicate taste buds… Soon after dinner the 14 hours of travel with very little sleep began to catch up and it was time to head to bed.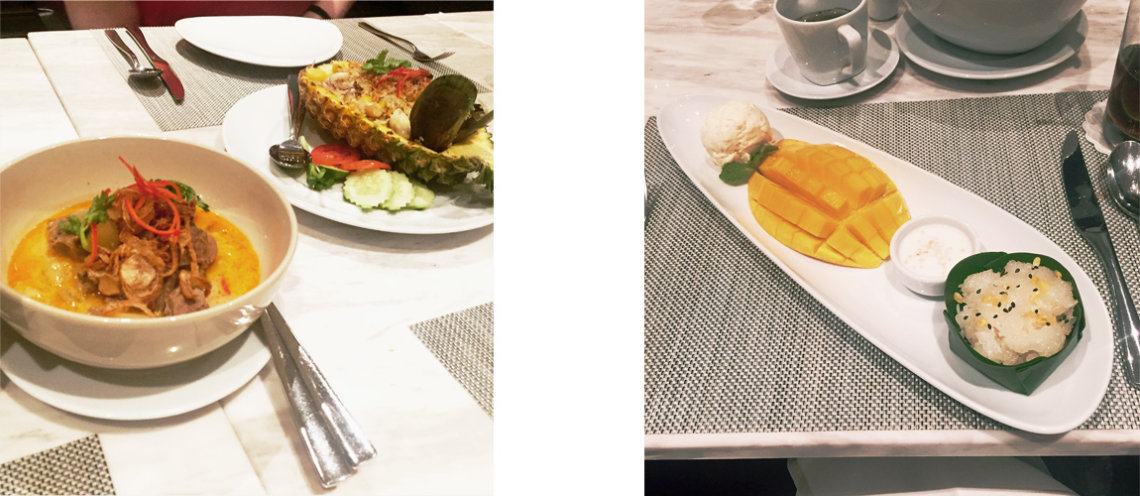 Day 2: Exploring Bangkok
Today was our first chance to get to see what Bangkok was really like. We opted to take a canal tour of the city so that we could enjoy the sights without having to manage the crowded streets on a hot day. You can spot so much from the Chao Phraya River, with Wat Arun and the Grand Palace being standouts of the trip. There was even a chance to feed the fish that inhabited the lake, with a frenzy of catfish surfacing as we scattered bread beside the boat. After our canal tour we decided to see some of Bangkok up a little closer and headed to the Jim Thompson museum to explore Jim Thompson's beautiful house. It's definitely worth paying for a guide to fully appreciate all the little details, there's also a shop selling Jim Thompson silk products so make sure you bring plenty of spending money as items can be a little on the pricier side
One of the highlights of today however had to be exploring Bangkok on a bustling Saturday night. We took advantage of the complimentary Tuk Tuk service offered by our hotel and headed to a busy main street in true Thai fashion. Street food vendors were out in full force, as were bar staff trying to beckon us in for drinks, the vibrancy coupled with the heat created an electric atmosphere that promised us an exciting evening; this was the Bangkok I had expected to see. Settling into a bar we made sure to grab seats near the window (as well as a few mandatory bottles of Chang) so we could people watch as the night set in.
Day 3: Wat Pho & Shopping
For the first time in our trip we were greeted by blue skies and temperatures of 40°C, although rather unluckily for us this was also the day we had to cover up and spend some time exploring the beautiful however un-air-conditioned Wat Pho, more commonly known as the temple of the reclining Buddha. Putting the heat aside, the temple is a wonderful place to visit, with there being so many little details to appreciate, as well as of course the magnificent reclining Buddha itself. We were also told there is a massage school on the complex worth visiting although unfortunately, we didn't have the time before we had to head to the popular Thai restaurant chain S&P for lunch.
After lunch it was time to do some shopping as we headed to MBK, one of the biggest shopping malls in the city that spans 8 floors. This is a great destination for those on a budget as the products tend to be a lower price although watch out for the poorer quality and fake goods floating about; for those who have a little more to spend you will also find Siam Centre nearby which has a great selection of shops or if you want to go even more upmarket head to the Siam Paragon where you will find designer and luxury stores. However our shopping wasn't over for the day and this evening we decided to head to one of Thailand's famous night markets located near the Siam Paragon. It was a great way to spend our last night in the city; the crowds, the noise, the smell of street food, and of course the unrelenting heat seemed like such a quintessential Bangkok experience that rounded off our stay here so nicely – it was also a great place to buy some souvenirs at a low cost!

After the hustle and bustle of Bangkok, it was now time to slow down the pace and head to Nakhon Pathom, click here to find out what we got up to next.
Top Tips:
Use a Tuk Tuk or better still motorcycle taxi to get around Bangkok in true Thai fashion and weave through the infamous traffic
Allow plenty of time to get from place to place particularly during rush hour
Opt for a canal tour as an alternative way to see the sights with fewer crowds
If you are interested in visiting Bangkok contact our travel experts by clicking here or calling 020 7843 3531.