Cruising Halong Bay in Vietnam
Cruising Halong Bay in Vietnam on a junkboat is a must-do activity whilst in this beautiful country. Halong Bay is a UNESCO World Heritage Site famous for its stunning collection of thousands of islands and karst limestone pillars which surround this alluring bay. It is said that the dragon sent by the Jade Emperor, sprayed 1000 pearls from which the 1,600 limestone stacks of Halong Bay were born. Designed to protect the land from invaders in the Gulf of Tonkin. The main island is Cat Ba which has some great beaches and the cruises will stop on their longer itineraries for scenic cycle tours of the island.
There are different durations of cruises available from one to three days. If you have time we would recommend the 3-day cruise as you will have more time on the bay to explore more islands and to do more activities. You can enjoy activities such as kayaking and cycling around Cat Ba island. There is a wide choice of boats which cruise Halong Bay. These are some of our handpicked favourites.
Experience sheer luxury onboard Violet Junk
The Violet Junk is one of the most luxurious and exclusive cruises on the bay. It offers just 6 individually themed cabins, which are spacious with en-suite facilities which offer floor-to-ceiling windows offering stunning views of the bay, and large private balconies. The suites all have Jacuzzis and the boat has an outstanding spa. The Violet is fitted out in the 1930's Indochine style. It features a boutique dining room, library and lounge, spa and gym. Tai Chi classes are offered in the mornings and the onboard chef will provide cooking classes. You'll also have the option to do all the main excursions like kayaking, visiting a traditional village on Cat Ba island and seeing the floating villages.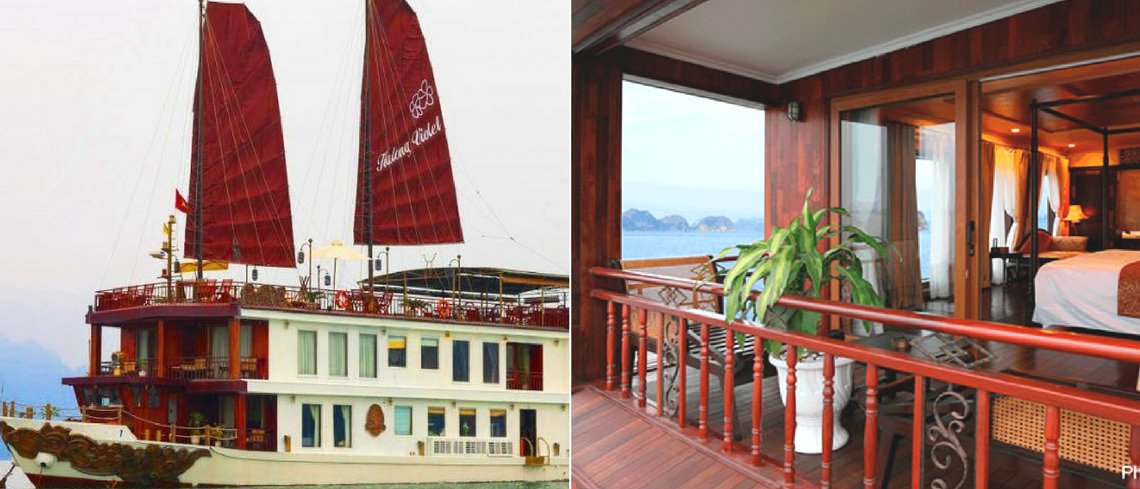 Cruise in modern comfort onboard Ginger Junk
The Ginger is a sister boat of the Violet. The Ginger Junk is designed with modern comfort in mind while keeping a very classically traditional French Indochine feel. This custom-designed junk features three decks that house a restaurant, lounge, two bars, a small boutique, library and ten luxurious cabins to sleep in. Enjoy some early morning Tai Chi classes on an open-air sundeck, visit caves and a floating fishing village as part of your journey on the cruise. The onboard chef conducts cooking classes, and you can also fit in a massage to keep you floating! It only operates 2-day cruises so perfect for those that want a glimpse of what Halong Bay has to offer.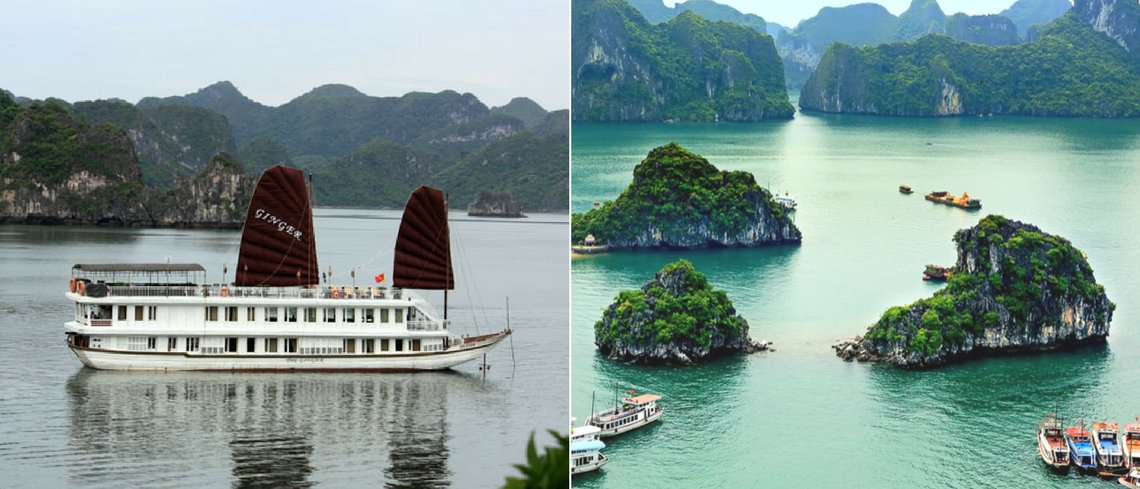 Experience the traditional elegance of Au Co
The Au Co combines traditional elegance with modern twists. It has a focus on the activities at Halong Bay and exploring the karst archipelago, and is great for families and younger couples. It offers 36 cabins so is a larger boat, perfect for more sociable guests. The two top decks are outdoor, one is a terrace with bar and the other a sundeck. Loads of activities are included such as fishing with the locals, kayaking to hidden lagoons, afternoon cooking lessons, cinema by the sea and guided trips to Halong Bay's grottos. You can also enjoy a Vietnamese tea ceremony, with the tea sharing tips on selecting & making good tea. The Au Co offers 3-day cruises only so is ideal for those that want to see as much as they can on the bay.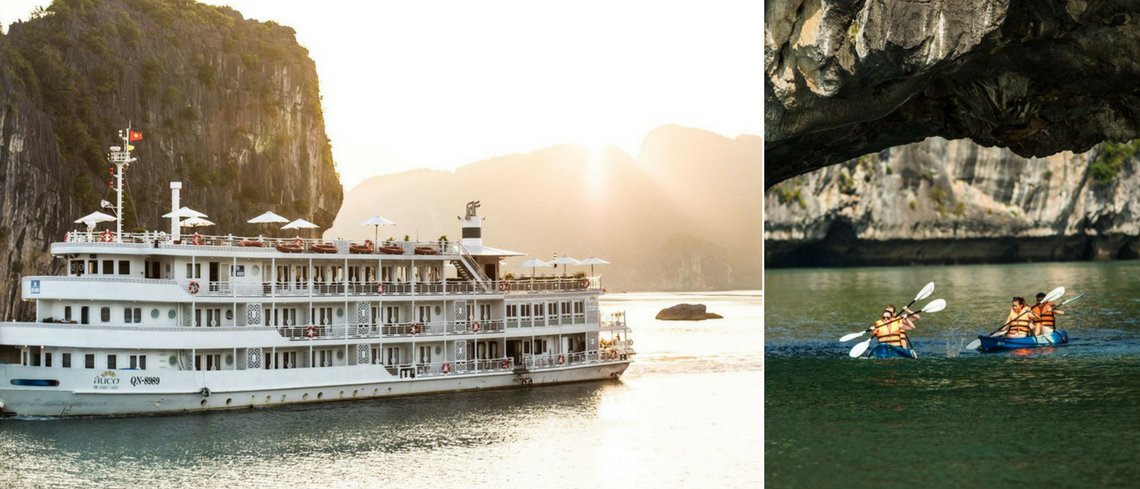 Beyond the Halong Bay, the cruise boats can also take you to the less crowded Gulf of Tonkin which is further east, to the rocky shores of Bai Tu Long.
For more information on cruising Halong Bay and the experiences we offer in Vietnam on our tailor-made holidays, contact our travel experts on 020 7843 3531 or info@clevelandcollection.co.uk or make an enquiry here.