Top Five Vietnamese Dishes to Try
You've either had Vietnamese food or you haven't because the food is so distinct that it is unforgettable. They are simple dishes, with a bucket load of flavour that balances the sweet, the sour, the salty and the spicy flavours, to create an explosion of taste in your mouth. On a holiday to Vietnam, it is almost sacrilegious if you haven't tried some of the local offerings. Each region has a subtle variation on the classics, and with the fresh ingredients, it incorporates, you are bound to be eating healthy yet sumptuous food when you visit Vietnam. Our Vietnam travel specialists have put together (after much discussion) the top five Vietnamese dishes to try, on your holiday to Vietnam.
1. Pho
Pho is a salty broth with rice noodles served with either beef (ph? bò) or chicken (ph? gà). It comes with an array of vegetables & herbs like basil, mint leaves, bean sprouts & lime, which the diner adds as per their tastes. You can find this dish almost everywhere on the streets of Vietnam, from elegant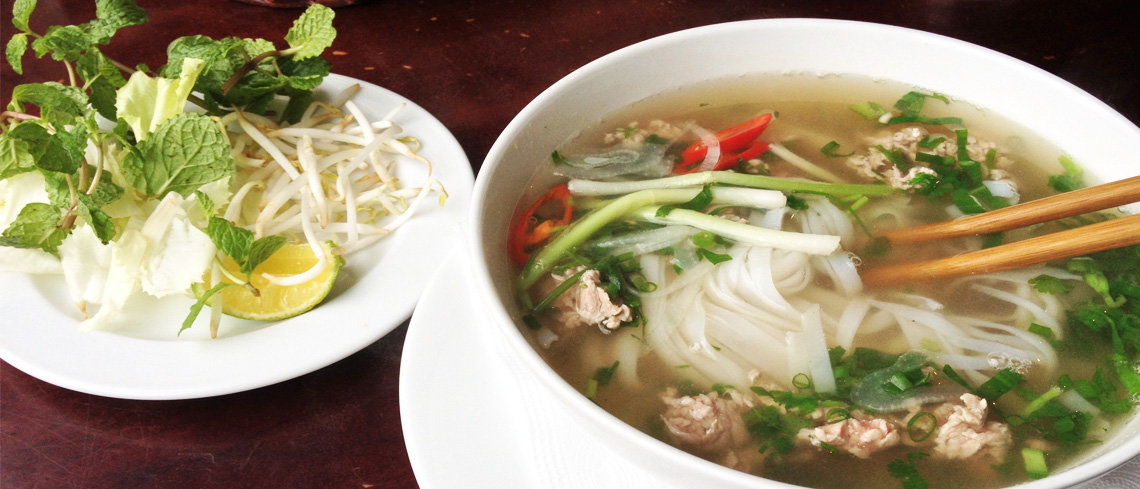 2. Banh Xeo (Sizzling Pancake)
This, as the name suggests, resembles a pancake made with rice batter, stuffed with fillings pork, shrimp, mint, basil and bean sprouts etc. It is fried and then wrapped in rice paper with lots of greens, and dunked in a spicy sauce to eat. The name comes from the sound the rice batter makes when it is poured into the hot skillet. The major skill of cooking Banh Xeo lies in the art of creating the perfect crisp texture of the pancake, giving the meal a pleasing juxtaposition of soft and crunchy.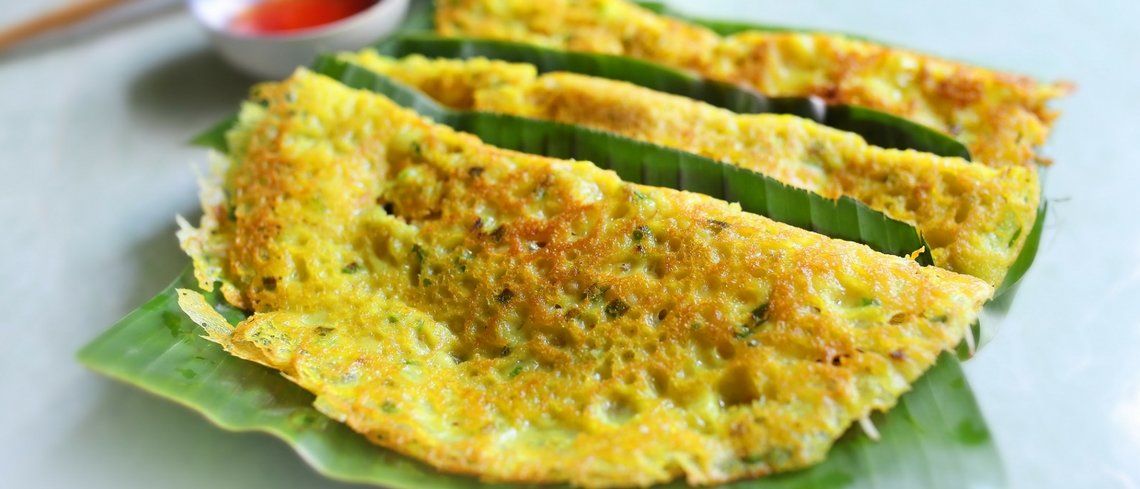 3. Goi Cuon (Vietnamese Spring Rolls)
The fresh wholesome ingredients and creation process of Goi Cuon provides a healthy departure from some of Vietnam's fried foods. The dish is a combination of salad greens, meat or seafood, coriander wrapped in clear rice paper, and served with a side of fish sauce, a popular condiment in Vietnam. The name of the dish changes depending on the region, in the north it is called Nem Cuon, and in central Vietnam, the dish is simply called Rice Paper Roll.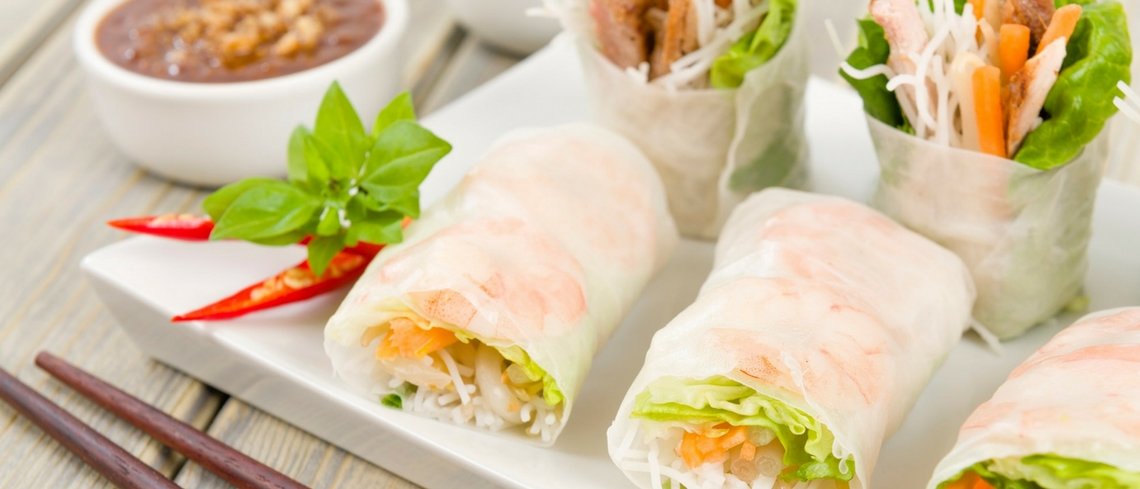 4. Cha Ca
This dish is a speciality of Hanoi and is known as one of the 1001 dishes to eat before you die. In fact, it is so popular there is an entire street in Hanoi, dedicated to serving this delicacy. Cha Ca consists of white fish sautéed in butter, green onions and dill served with rice noodles with a topping of peanuts. The fish is cautiously chosen so that there are few bones, providing a pleasant eating experience. You will find restaurants where the fish is cooked table side, giving you an authentic and unforgettable culinary encounter.

5. Banh Mi
Banh Mi is a Vietnamese baguette that can be filled with a variety of ingredients. The main base of the dish includes a French influenced baguette that can be made with a combination of rice/or wheat flour. Then the baguette is split and hollowed out before it is filled different ingredients based on which part of the country you are in. In the South, it can be filled with cheese, cold cuts, scrambled eggs, pickled vegetables, & sausages. In the North, it tends to be lined with butter or mayonnaise, and pate. Don't be afraid to be creative and bold when you order this fascinating dish that produces a lovely combination of French and Vietnamese cuisine.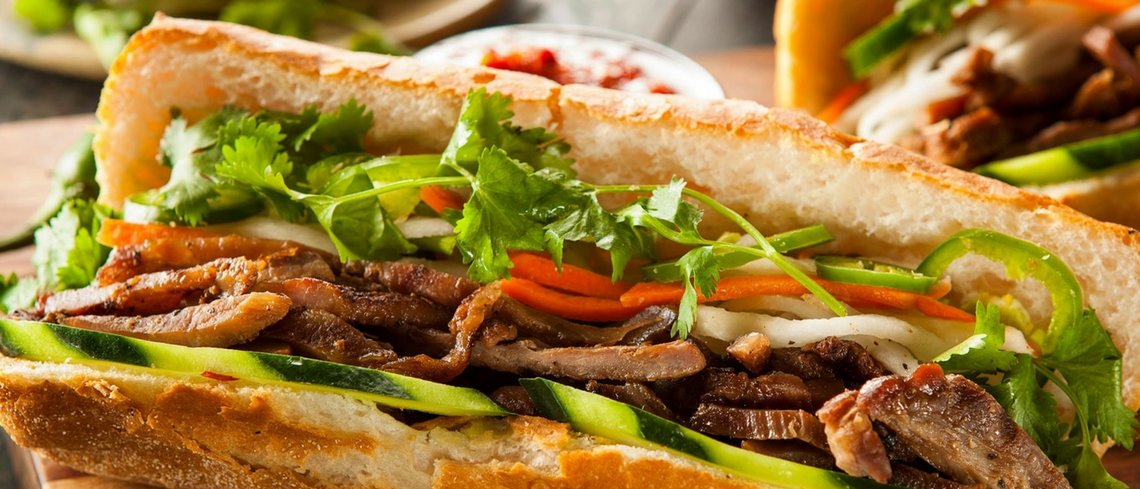 If you are travelling to Vietnam it is almost imperative that you do a street food tour, as it is an inherent part of their culture plus you just can't miss the delicious range of dishes available. Trust us when we say it is an experience worth having. We have a few itinerary suggestions if you would like a gastronomical tour in Vietnam like the 13-day culinary delights of Vietnam. If you would like a street food tour as part of your itinerary check out The Best of Vietnam itinerary.

If this has got you inspired and you would like to try sample some of these dishes, give our consultants a call at 020 7843 3531, email them at info@clevelandcollection.co.uk or submit an enquiry here.