Top 5 Twin Centre Breaks
We love to experience as much as possible when on holiday, and a great way to do this is to not just head to one destination, but venture on a twin-centre break so you can get even more out of your getaway. Whether you want to combine cultural exploration with some relaxation on the beach or the hustle and bustle of the city followed by the serenity of nature, we know the very best combinations that promise the perfect holiday. Here are just 5 of the combinations that we love, however with twin centre breaks the opportunities are endless.

Sri Lanka and Maldives
Both floating in the Indian Ocean and promising completely different experiences, Maldives and Sri Lanka are two destinations that combine perfectly. Head to Sri Lanka to discover the country's rich culture, visit incredible sites such as Sigiriya Rock and discover the temples that are scattered all over the place. Be sure to fit in a safari and admire the amazing wildlife that inhabits this island before jetting off to the Maldives to conclude your holiday. Home to what are easily some of the world's most beautiful beaches as well as some truly luxurious resorts, round off your holiday in style and enjoy some relaxation in the sun.
Try: 19 Day Sri Lanka and Maldives Escape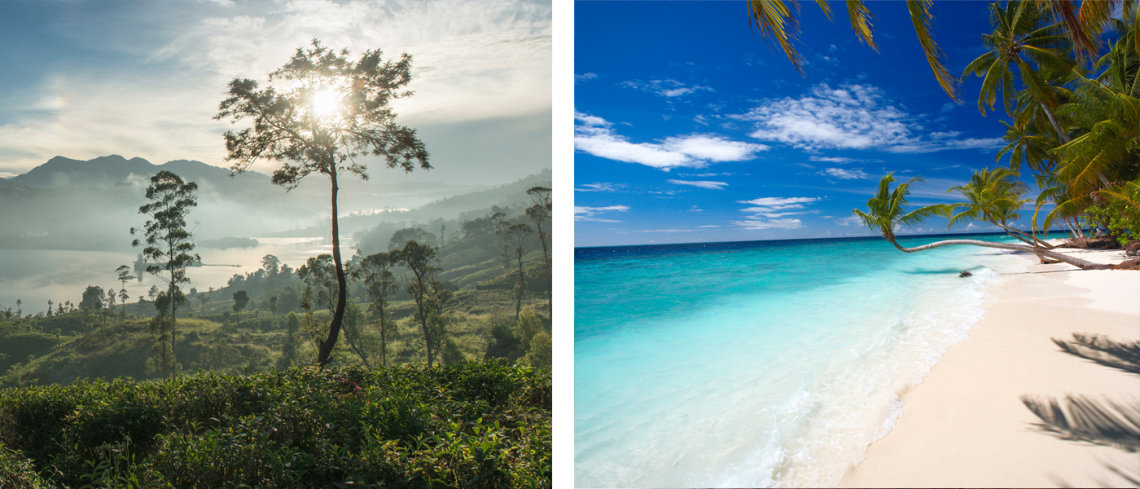 Myanmar and Thailand
Thailand is often referred to as the gateway to Asia due to how easy it is to reach so many other destinations from its capital, Bangkok, and one of our favourite destinations to combine it with is Myanmar. Both Thailand and Myanmar have their own unique cultures, cuisines, and sights which make them great countries to visit whether individually or together. We recommend visiting Myanmar for its awe-inspiring temples and natural beauty, while Thailand is fantastic for its lively cities like Bangkok and of course its many, many stunning beaches found on its infamous islands.
Try: 14 Day Thailand and Myanmar Exploration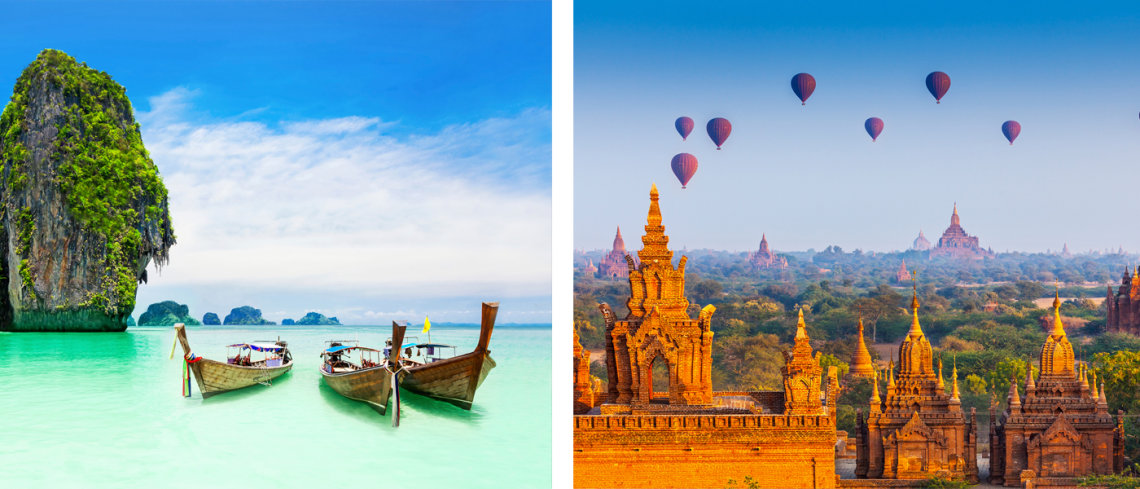 Laos and Thailand
Another destination we love to combine Thailand with is Laos. Thailand can be busy and chaotic and while that can certainly be enjoyable, we love to combine it with the peace and tranquillity of Laos to slower the pace and allow some time for relaxation. While Thailand is full of busy cities and a multitude of sights and sounds to discover, Laos is more about enjoying the way of life in the sleepy river towns and admiring the breath-taking views that can be found everywhere, and for those keen to do some sightseeing, cities such as Vientiane still offer plenty to see and do.
Try: 10 Day Discover Thailand and Laos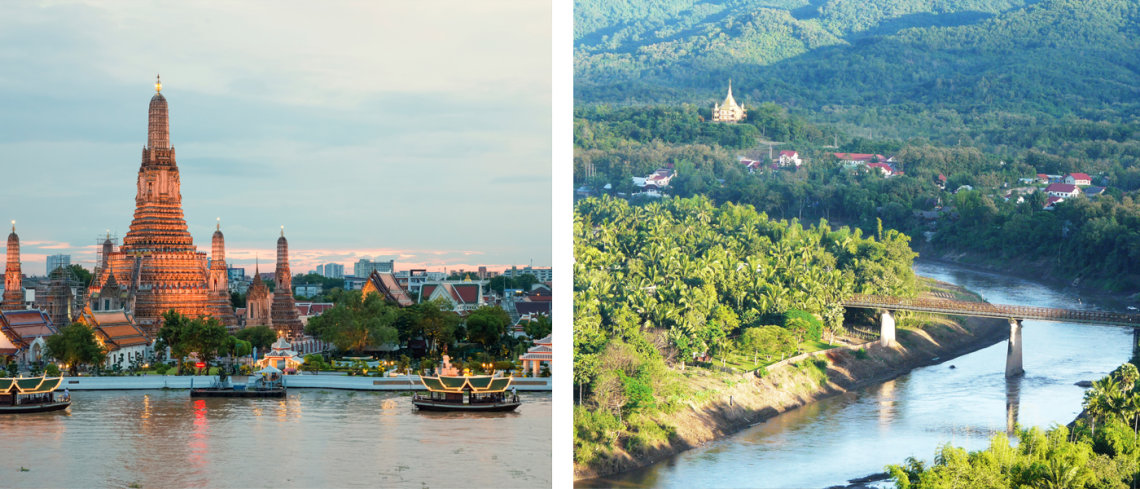 Cambodia and Vietnam
We love combining Cambodia and Vietnam not just for the wonders that each destination holds, but for the journey you'll take between them. In both countries you'll find incredible sights, from the famous Angkor Wat in Cambodia, to the many famous attractions in Hoi An, Halong Bay, and other areas in Vietnam. The majestic Mekong river connects these two destinations, and we recommend taking a river cruise along it to enjoy a truly scenic journey.

Malaysia
A diverse nation made up of different islands, just by visiting different parts of Malaysia you can have a completely different experience. You can find it all in Malaysia, exciting cities such as Kuala Lumpur, lush rainforests in Borneo, and of course white sandy beaches all along the coastline or offshore islands. There are plenty of different options available, and we personally encourage you to begin in Borneo and explore the delights that await in its forests such as the native Orangutans and incredible variety of flora and fauna. After time spent exploring the wild, some beach time seems well deserved, so head to one of the private island resorts and enjoy doing as much or as little as you like there.
Try: 12 Day Borneo Beach and Adventure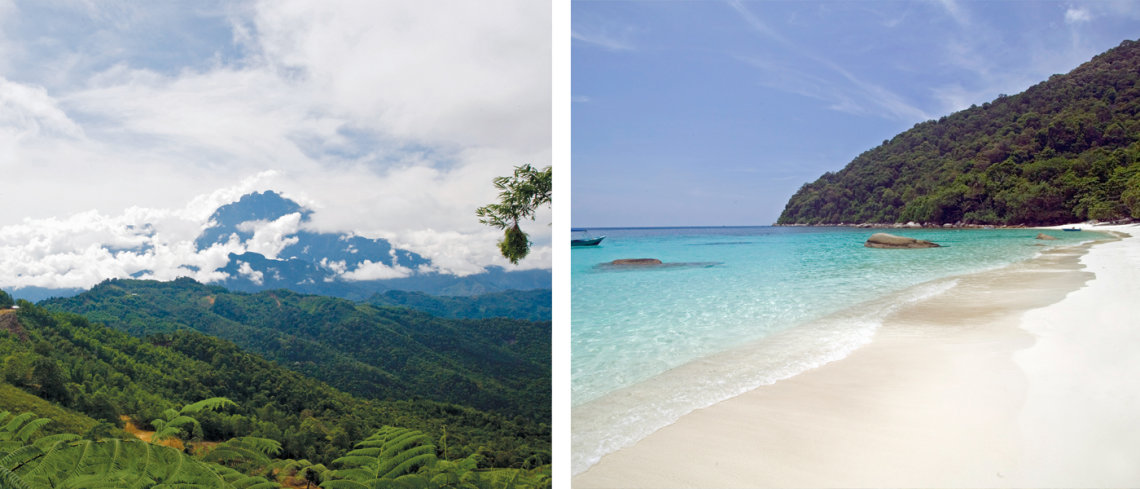 If you're interested in heading on a twin-centre holiday speak to one of our travel experts. Even if none of these options are quite what you're after, we can tailor-make you dream holiday to whichever destinations you would like. Just call 020 7843 3531 or click here to enquire.