Top 5 things To Do In Oman
The Middle East is a great place to explore, with such a change in culture it would be hard not to be intrigued and fascinated by the different customs and history in these beautiful countries. Oman is the perfect destination wherein it's not so westernised that it's lost its culture, but is still very welcoming to visitors and has so much to offer them.
The stunning combination of desert plains and lush green equal a breathe-taking landscape with unique sights that will leave you in awe. With wildlife, culture, history and so much more it can be hard to know where to start. To help give you an idea of what's on offer here is our top 5 things to do in Oman:
A city tour of Muscat:
The capital and largest city in Oman, Muscat is a melting pot of information, culture and history with so much to see. Perhaps one of the most captivating sights you'll want to see whilst in Muscat is the Sultan Qaboos Grand Mosque, unique as the only mosque in Oman open to non-Muslims it's a must see.
The Grand Mosque lives up to its name towering above the city at almost 300ft, it features the world's second biggest carpet weighing over 21 tonnes and an eight-tonne chandelier featuring 600,000 Swarovski crystals. This overwhelming and bedazzling structure is truly a sight to behold and not one to be missed, the sheer size of it is enough to impress, with a full capacity of 20,000 worshippers.
Another popular destination is the Bait al Zubair Museum, filled with an array of different historic and cultural artefacts; its captivating collection features an extensive collection of ancient weapons. Following this, there's plenty of sights to see in Muscat including the local souk markets, Royal Opera House and more.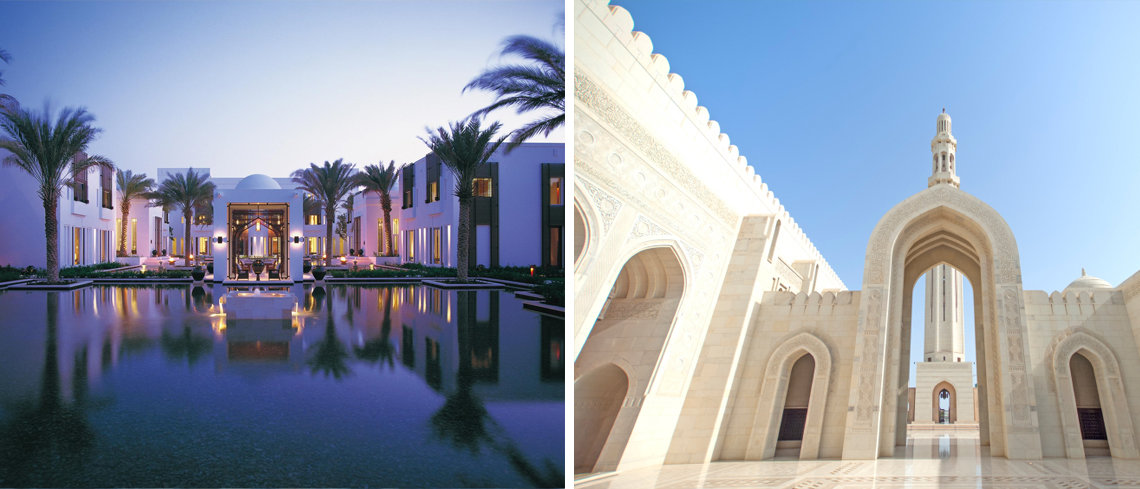 The Corniche
The Muscat Corniche is a great place to indulge in the local delicacies and get a feel for life in the city. Stretching across parts of the coast, the Corniche features some spectacular sights with fountains, greenery and bright lights decorating the strip. This Souk Market here is easily one of the most popular to attend, the locals are friendly and there is great shopping to be had with traditional and authentic items. Another popular attraction is the fish market by the Dhow harbour at the end of the Corniche with all the finest catches of the day.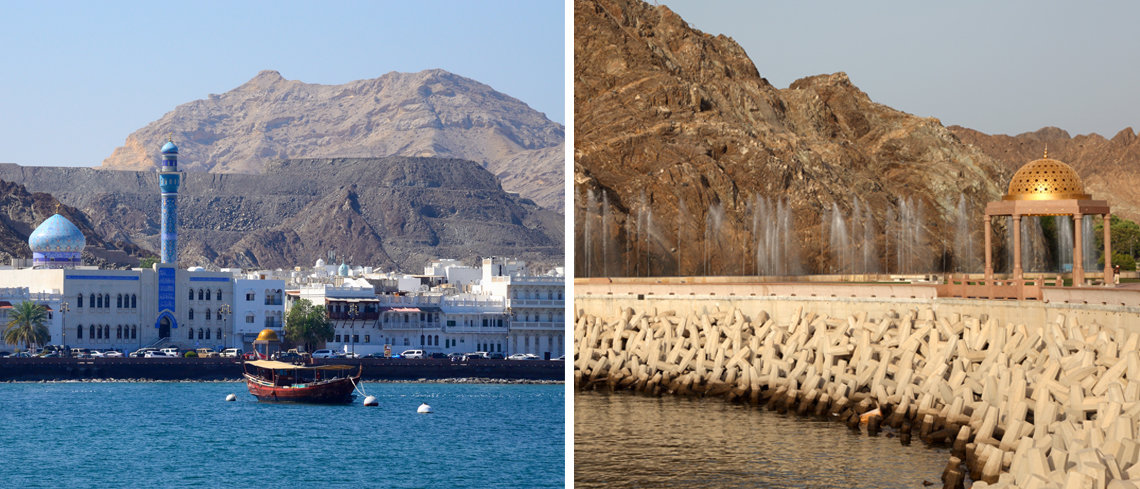 Wildlife and Nature
With its hot and dry climate, Oman's vast variety of wildlife can come as a surprise to many, but this is a country that holds many hidden gems. Oman's conservation of rare species is not only admirable but makes for great opportunities for visitors to view these rare creatures. The Arabian Oryx Sanctuary is home to rare species of bird, the endangered Arabian Gazelle, Nubian ibex, Arabian wolves, and of course the near-extinct Arabian Oryx.
A short cruise out into the open waters of Muscat and you'll soon be joined by playful dolphins swimming alongside your boat, the marine life is truly something to behold in Oman with over 10 different species of whale known to the area.
A final small miracle to witness is the sea turtles, with five of the seven different species found in the world, laying their eggs in Oman. The best time to visit is July to October, otherwise known as the peak times for turtle egg hatching on the sultanate's shores, the estimated 20,000 sea turtles lay approximately 60,000 eggs each year!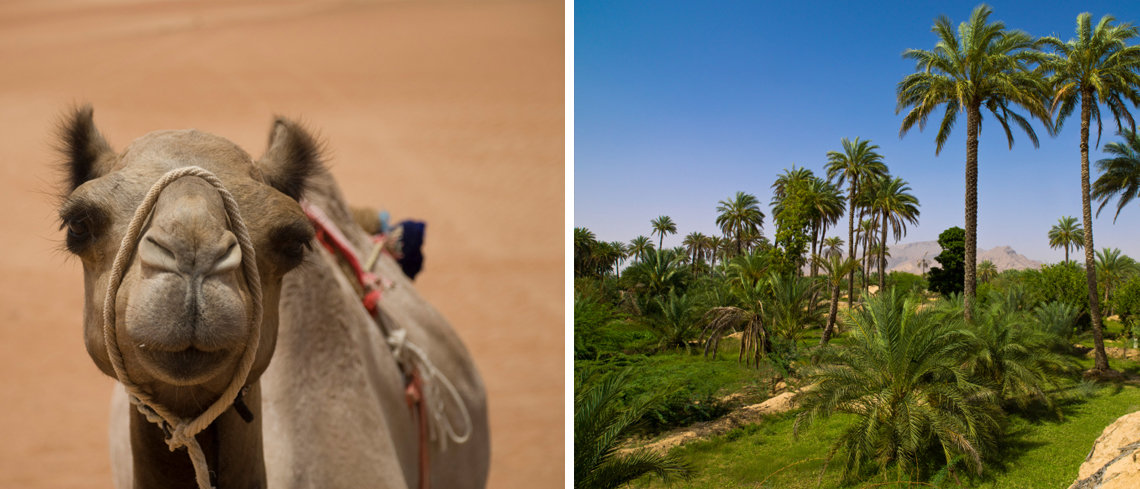 Wahiba Sands
Most deserts are impressive in themselves; an endless and boundless landscape of golden sands and dunes under the burning sun is always a captivating scene. The Wahiba Sands is a particularly remarkable desert with its dunes reaching over 200 metres, and an abundance of luxury camps to spend the night in.
There is a real variety of things to do in the Wahiba Sands, there are many adventure based activities to partake in but also scenic and cultural opportunities too. Inhabitants of the desert, the Bedouin people have a fascinating culture that many tours of the area will incorporate into your visit, from seeing traditional clothing to learning about how they survive on the land; it's a fascinating and rich culture to appreciate.
Other delights of the desert include dune boarding, dune bashing, camel rides, watching the sunrise, sunset and of course stargazing into the undisturbed velvety black sky with all the stars in full view.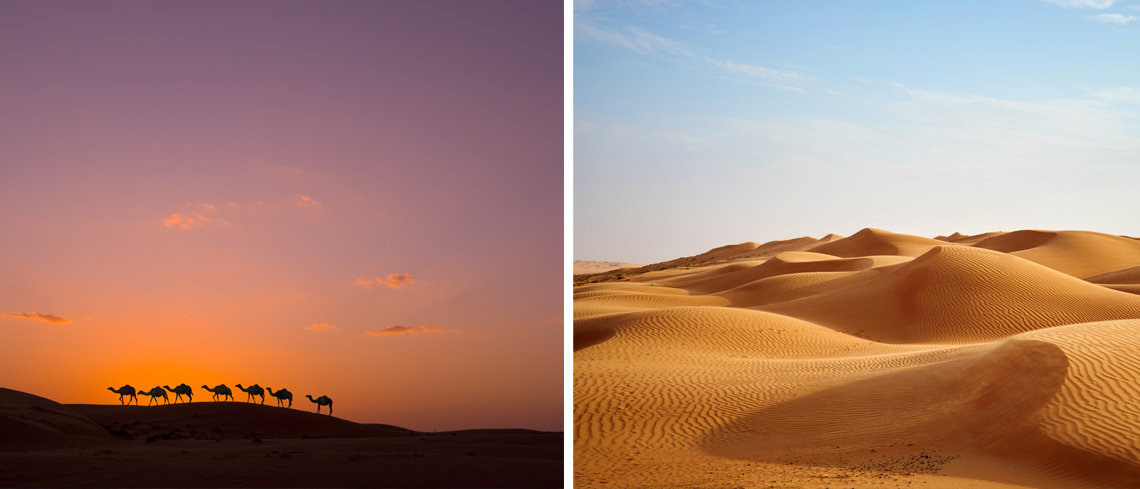 The Mountains
It's time to head for higher ground with the ancient mountain villages; these historic areas are bursting with culture just waiting to be explored. The trek through the mountains not only provides a great insight into the traditions and customs of the locals but provides stunning views out over Oman and the surrounding greenery.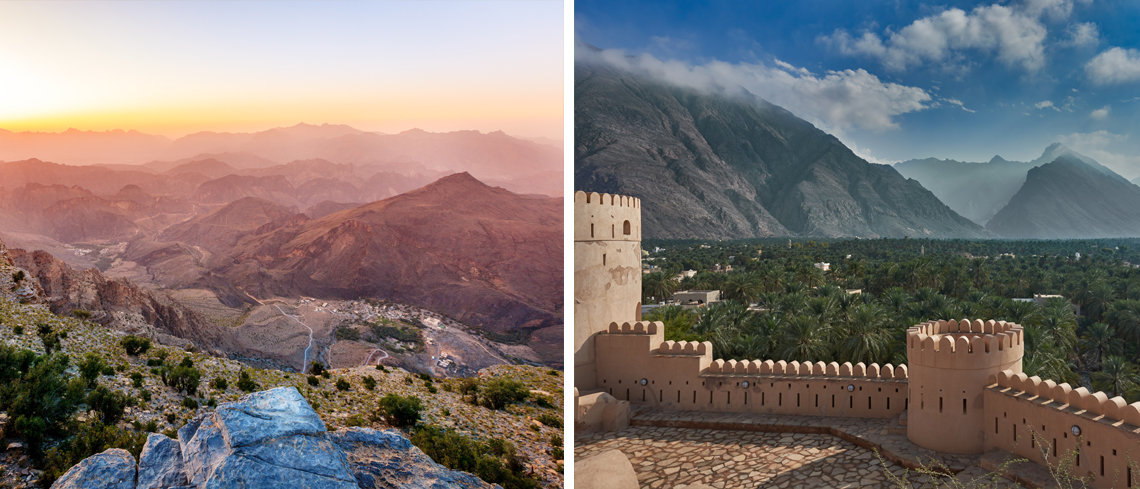 To cover the greatest parts of Oman be sure to check out our 9-day "highlights of Oman" guided tour.
If you are interested in booking a holiday to Oman or would like further information then you can speak to one of our travel experts on 020 7843 3531, or feel free to send us an enquiry.