Top 5 things to do in Mexico
Mexico has much to offer an intrepid traveller with a varied choice of things that will keep you captivated. From the numerous places and things, we decided to pick the top 5 things to do in Mexico for you to read through before you travel to Mexico. What's so special about them? These are places that our travel advisors have been to, and our clients have suggested. Plus we have picked experiences off the beaten path, and some though popular are a definite must see, like the Chichén Itzá & the El Arco! Also, we have suggested hotels you can stay at which are close to the recommendations.
1. El Arco de Cabo in Los Cabos
Los Cabos is a town which literally has everything for everyone, so a great destination if you are travelling as a group making it an ideal stopover in your travels around Mexico. However, the peak attraction is a uniquely formed set of rocks, which was used by pirates in the 16th century to hide behind as they waited for Spanish ships. Head out early to beat the crowds, and you can get on glass bottom boats for some wildlife watching. You can see triggerfish, brown pelicans and sea lions in this area. You can see rock caves and sea stacks and this is a great location to see a Mexican sunset. You can also get dropped off with a picnic at the Lover's beach on the bay side or head to the surf pounded Divorce beach on the Pacific side to see this magnificently beautiful location.
Accommodation: One&Only Palmilla resort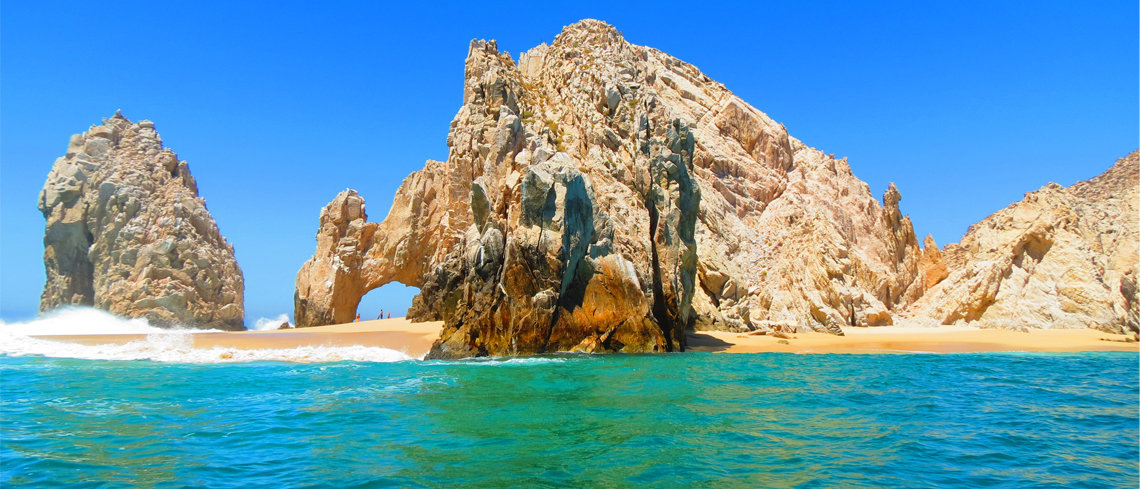 2. Browse the canals of Xochimilco in Mexico City
Now, this is a city where you can browse over 150 museums & galleries, explore the Bosque de Chapultepec park, the Aztec ruins of Templo Mayor, Teotihuacan and much more. However, what caught our interest and is definitely something you should explore is a network of canals that move through a series of man-made islands in southern Mexico City. So called the 'Venice of the new World' Xochimilco means - where the flowers grow. These floating gardens (chinampas) are basically reed rafts used as a base for cultivating fruits, flowers and vegetables, which used to float over water. Over time, the roots formed making them little islands. This is a UNESCO world heritage site, and you can go on flat bottom boats (trajineras) through these canals, with little boats providing you drinks and snacks as you float through! It is the only instance of the traditional pre-Hispanic land use of lagoons in the Mexico City basin!
Accommodation: Condesa DF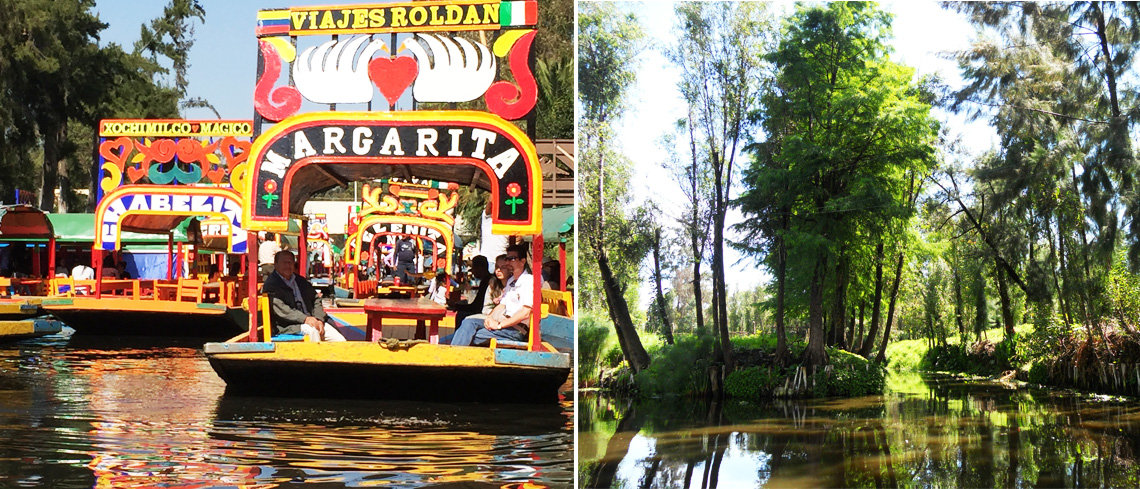 3. Swimming with whale sharks in Isla Holbox
Isla Holbox is a tiny narrow little island that is off the north coast of Yucatan. A must do if you are in this area is to head to this breathtaking natural paradise. These 15 tonnes peaceful sharks come to the plankton-rich seas around the island from July - September. The experience of swimming alongside these gigantic animals underwater are an unworldly sight to see. Along with the WWF, the swims have been regulated by the tour providers to ensure that your experience does not come at the shark's expense. Only three people with their guide are allowed at a time to ensure you don't disrupt their feeding. The island is also great to do some bird watching and getting some snoozes in a hammock by the sea.
Accommodation: Thompson Playa del Carmen
4. Explore the ruins of Chichén Itzá in Tulum
This is a very popular destination for people coming to Mexico. A spectacular display of the Mayan architectural genius can be seen in these pyramids. They are located in Tulum close to the Be Tulum hotel in the south of Playa del Carmen. It is pretty crowded and due to the heat and humidity, it is best to explore this place early morning or late afternoon. You cannot climb the pyramid anymore, you will be allowed only in a few passages. You can also go by Coba, where you can still climb the pyramid if it's too crowded. During the autumn and vernal equinox an illusion of a serpent can be seen ascending or descending during morning and afternoon respectively. On these days the site is very busy, you can go the preceding week too to see a lighter illusion, or go for the light and sound show every evening to see this phenomena.
Accommodation : Be Tulum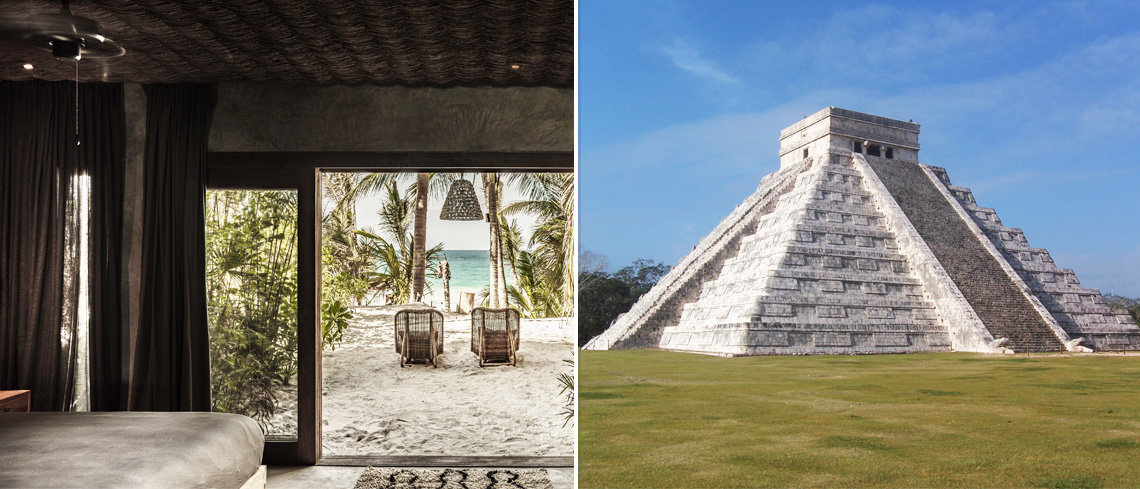 5. Diving or snorkelling in a Cenote in Yucatan
So obviously you may ask - Cenote? Well, a cenote is basically an underground cave which has fresh water in it. They are essentially sinkholes that have opened up into rivers which are underground. Legend has it that the Mayans used to communicate with their Gods in these pools, due to the surreal feeling these caves have. It's like being in a secret underground world full of turquoise pools. In these hidden pools you can enjoy mineral rich crisp waters and enjoy a feeling of being lost in another world! You can go scuba diving in these caves with a guide if you have a PADI license. If you are not a diver, you can go snorkelling in the cenotes. This is a great place for some underwater photography so don't forget your specialist equipment. Some that we would suggest are worth visiting are Cenote Yokdzonot, Cenote Ponderosa, Azul, Dos Ojos and Gran.
Accommodation : Hotel Esencia [Check out our special offer for this hotel here]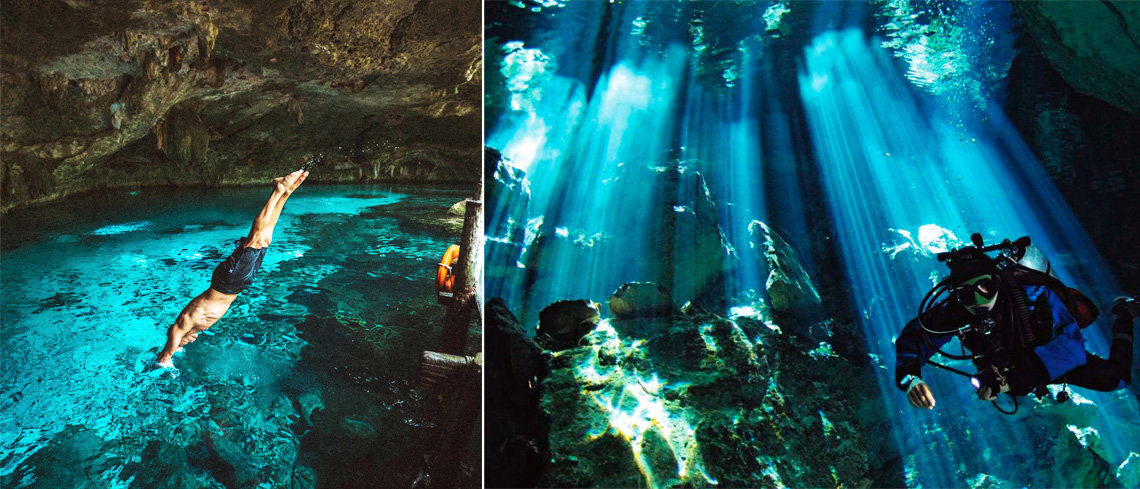 If you like the sound any of these and would like to add these experiences to your holiday to Mexico, call our experts at 020 7843 3531 or email us at info@clevelandcollection.co.uk