Top 5 places to stay in Vietnam
You are spoilt for choice for options of where to stay in Vietnam. We offer a wide variety from large, multinational hotels to boutique style hotels in city centre locations and off the beaten track hidden gems amongst others. We've handpicked some of our favourites from our extensive list to provide our personal top 5 favourite hotels to stay at in Vietnam.
1. Relax in the beautiful Six Senses Con Dao
Six Senses is set in a breathtaking location in Con Dao which has been protected for decades as a national and marine park. Being the first five star resort in the archipelago islands it is one of a kind and reflects the true essence of a traditional fishing village. Six Senses is the ultimate in eco luxury which has been recognised as one of the world's top eco lodges by National Geographic Traveller. The hotel's design is contemporary and very fitting to its location with its natural, wooden interior. Our favourite perk is that each room comes with its own private plunge pool making it idyllic to relax and take in the serene surroundings overlooking the long private beach.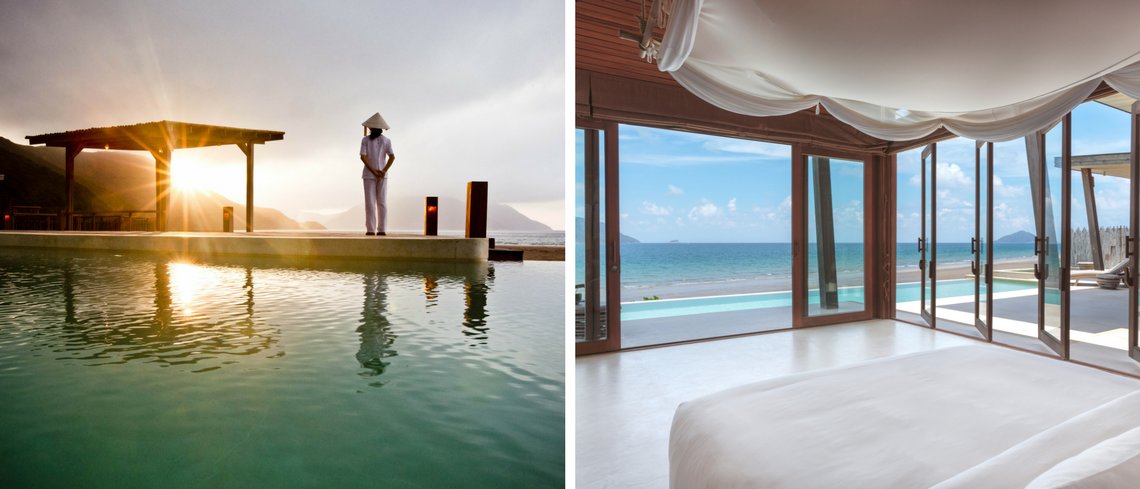 2. Experience the tranquillity of Ana Mandara Villas Dalat Resort & Spa
Ana Mandara is ideally located in the beautiful central highlands of Vietnam offering a peaceful haven away from the hustle and bustle of city life. It is an award winning property which offers unique charm with French-style villas scattered around the rolling hills. Our favourite aspect of the hotel is its award winning La Cochinchine Spa which offers an unrivalled range of treatments and exceptional views over the Da Lat countryside.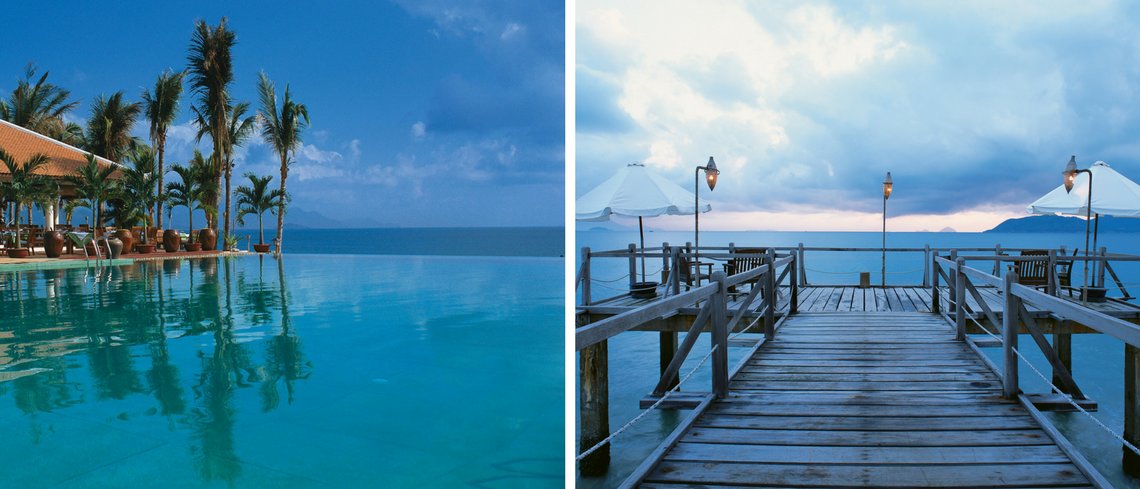 3. Invigorate your senses at Banyan Tree Lang Co
Banyan Tree in Lang Co is a luxury tropical retreat famed for its secluded setting and diverse terrain. Nestled in the foothills of the crescent shaped Truong Son mountains, the resort looks out over a magnificent sandy beach on a crescent bay. Your senses will be reawakened at the award winning spa which has remedies containing fresh, aromatic ingredients picked from the tropics such as prune, pandanus and butterfly peas. Our favourite part of the hotel is the beachfront dining experience. Azura is a beachfront restaurant which offers indoor and al fresco dining on a varnished veranda and serves up good old-fashioned Italian recipes, succulent offerings of seafood and deliciously scrumptious appetisers with outstanding views of the beach.
4. Cherish the moments at Four Seasons Resort The Nam Hai in Hoi An
Four Season Resort The Nam Hai is located on pristine Hoi An Beach and in one of the most beautiful areas of Vietnam, close to the UNESCO World Heritage Sites of Hoi An, My Son and Hue. The Nam Hai's architecture and interior design presents a dramatic play on wind and water inspired by ancient feng shui philosophy and the grandeur of the Tu Doc royal tombs of Hue. What stands out to us the most is that Four Seasons Resort The Nam Hai is an exclusive villa accommodation which offers spacious surroundings in vast acres of tropical gardens.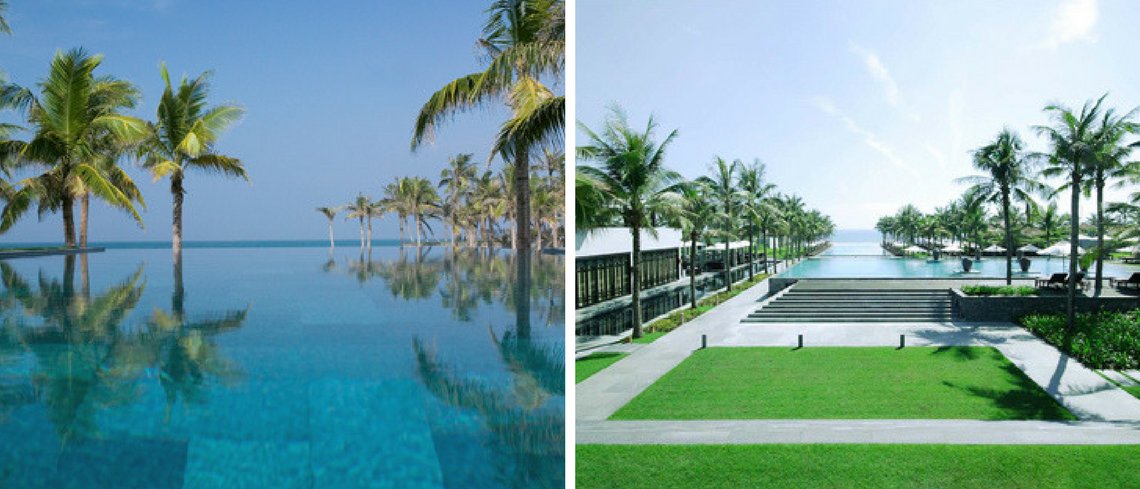 5. Enjoy a stay at Park Hyatt Saigon in Ho Chi Minh
Park Hyatt Saigon is perfectly located close to the shops and main attractions of alluring Ho Chi Minh. This hotel is newly refurbished and blends sophisticated design and décor with the latest modern comforts with a wide range of amenities including a spa, an outdoor swimming pool, fully equipped gym and a choice of restaurants. For us what we think makes a stay at Park Hyatt Saigon extra special are the views from the hotel overlooking the elegant Opera House.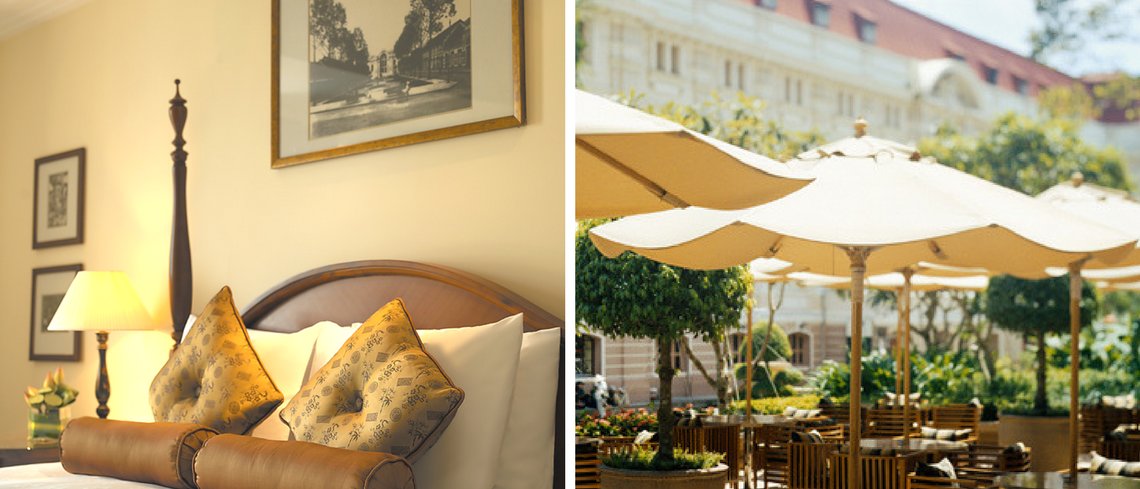 For more information on where to stay in Vietnam and what we offer on our tailor-made holidays, contact our travel experts on 020 7843 3531 or info@clevelandcollection.co.uk or make an enquiry here.