Top 5 Foodie Destinations for the Luxury Traveller
Bringing a whole new meaning to the phrase "a taste for travel", we're taking a look at the best foodie destinations around the globe. No holiday is complete without the right food, if you can't follow up your day at the beach or your trek down the mountain with a good meal, then the day just isn't complete. So whether food is at the forefront of your holiday, or a secondary factor, we've put together a list so that you're in the know of what you must try when travelling, here is our top 5 food destinations for the luxury traveller:
Japan
Japan is a cultural extravaganza, with so much to do and see you'll need a good meal to set you up for the day and to keep you going throughout. Sushi may be the first thing that comes to mind when many think of Japanese food but it's merely the tip of the iceberg in what's an extraordinary food journey. The usual dishes of Sushi, Ramen and Tempura are widely available throughout Japan and whilst more authentic and tasty in their country of origin, it would be wise to take advantage of being in Japan and sampling the dishes not quite as common back home.
Only available fresh from November to May, Unagi is river eel grilled in a barbeque sauce, this unique dish is a Japanese favourite not to be missed, look out for restaurants that specialise in eel to get a truly authentic taste. Okonomiyaki is a fun meal, most popular in the West, roughly translating to "as you like it" this dish is a base recipe of cabbage and batter, and then it's up to you what toppings you add. Be sure to visit a restaurant that specialises in Okonomiyaki as the abundance of toppings and food available to add to the dish will make it all that more enjoyable and authentic.
For an intimate and luxury experience, we recommend Ginza Kojyu, a Michelin Star restaurant located in Kaiseki. The venue is small but offers a wide variety on its menu, with attentive staff and authentic Japanese food there's never a quiet night so be sure to book in advance!
Whatever you decide to eat you'll no doubt be given green tea to help wash it all down, as the most popular beverage in the country you'll be able to find it almost anywhere with different flavours and infusions available.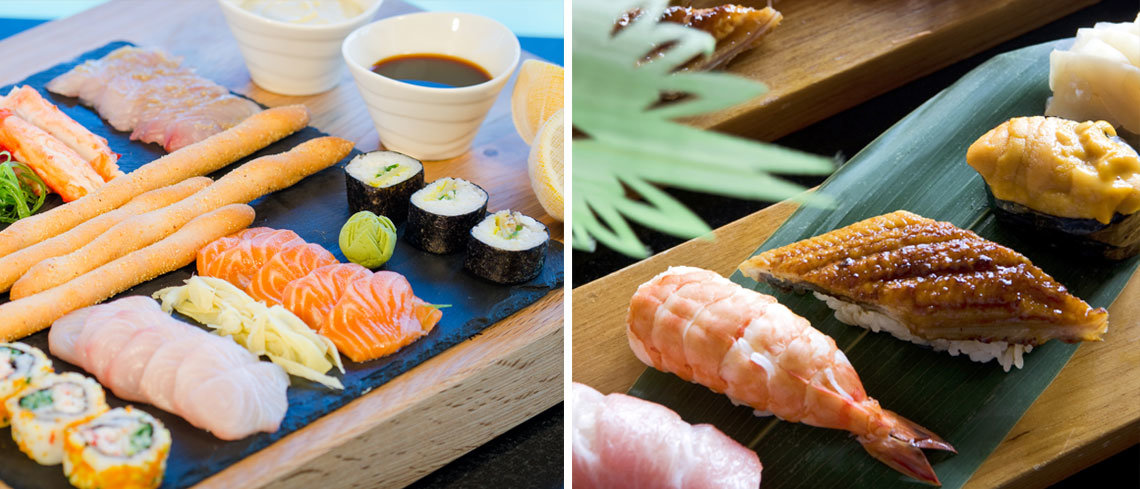 China
China is an overwhelmingly large country, which means they'll definitely be more on the menu than that of your local takeaway. Nothing, not even China Town can compete with the real thing, and amongst the many reasons to visit China, food is definitely one of them.
If you're looking for something to ease you in slowly "Lu Cuisine" might be the right choice for you, generally featuring more Western ingredients. Widely available throughout China, Lu often consists of Seafood, potatoes, cabbage and garlic. When you're ready to venture into something a bit more exciting Su Cuisine is the next step with fragrant dishes of fish and vegetables, we suggest the "Sweet and Sour Mandarin Fish". With a chili in every dish Xiang dishes are for the more adventurous foodies out there, adding some spice and excitement to chicken and fish meals, this is one type of food not made for the light hearted. Finally one of the lesser known foods is Hui Cuisine, infamous for its unique and unconventional recipes, this is definitely one to try for the more daring visitors. Stewed Turtle in Ham, and Fat King Fish in Milk Soup are just a taster of the wild recipes on the Hui menu.
For outstanding views and outstanding food the Bajyun offers it all. Located in the Banyan Tree hotel in Yangshuo, the restaurant offers a variety of Guangxi and Canton dishes to feed your appetite for food and culture. Be sure to reserve one of the private dining suites for a true fine dining experience.
Whilst you should always have fun trying the new foods it's essential to remember the importance of table manners in Chinese culture and brush up on them before you go!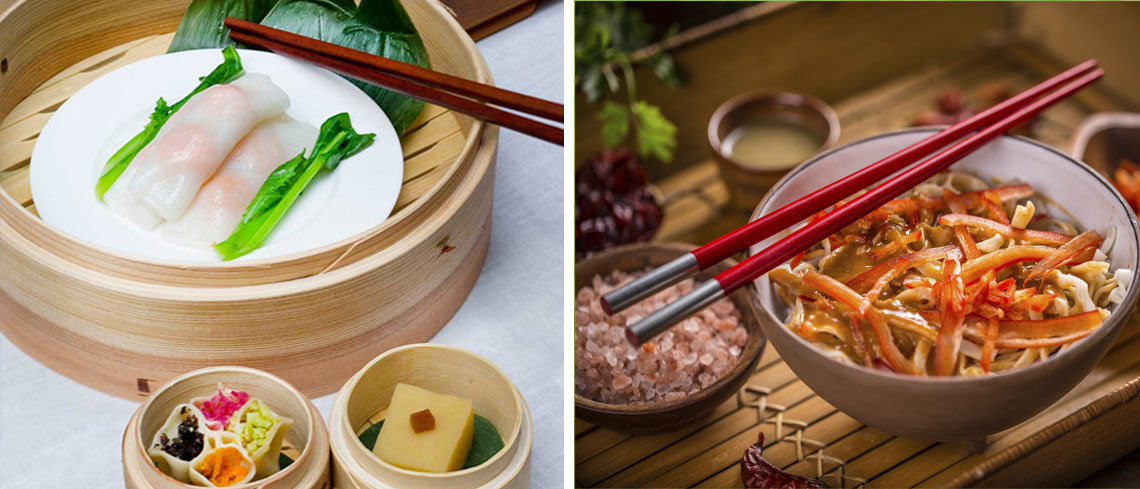 Thailand
If you can find a way to take your eyes off the beautiful views and beaches for an hour, then sampling some of Thailand's cuisine might be a great way to spend the time. Known for its aromatic and fresh flavours, Thailand definitely won't disappoint with providing a vibrant new taste adventure.
The first thing to get accustomed to is using chopsticks, widely used with a variety of meals in Thailand you might stick out like a sore thumb if asking for a fork! First on the menu is noodles, it's never wise to judge a meal on its takeaway counterpart so don't underestimate the flavour these dishes have to offer. Pad Thai is one of Thailand's most famous noodle dishes, stir fried with shrimp, bean sprouts, egg, tofu and seasonings, this is one filling and tasty meal you won't want to miss.
Many may view curry as a traditionally Indian dish, however indulging in an authentic Thai Curry may make you changed your mind…or at least think twice! The Thailand take on an Indian favourite offers a fresh and aromatic twist to an already winning formula, using fresh herbs and locally sourced fruits for the dish, it can offer a sweeter and often lighter meal than expected, whilst still satisfying your appetite.
Save the best for last and finish your trip with a visit to the luxurious Le Normandi, located within the upscale and elegant Mandarin Oriental, this fine dining restaurant is not one to be missed. The delectable food is only rivalled by the stunning view, overlooking the Chao Phraya River.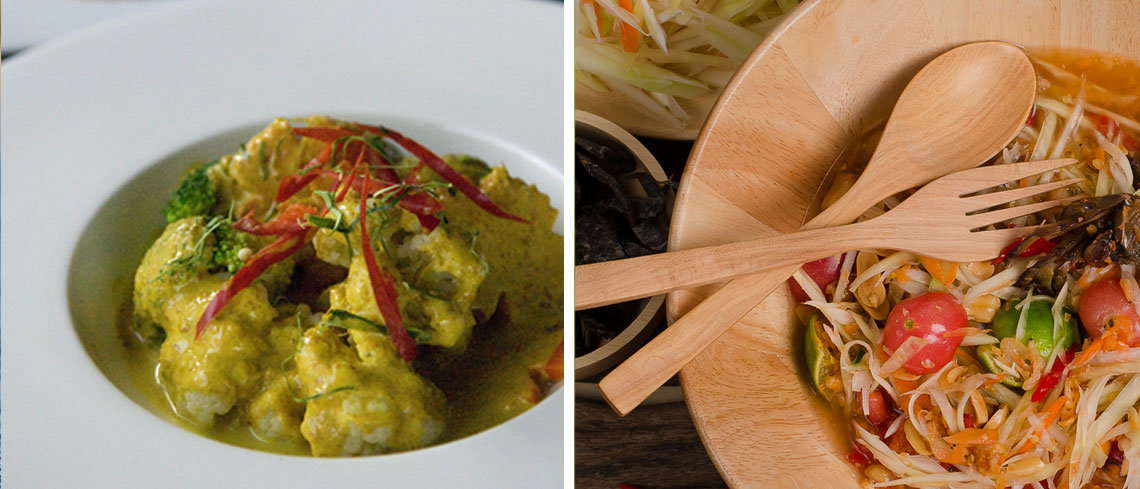 India
The general consensus is that Indian food = Curry, and whilst it's a dish not to be missed when visiting India it's really just the tip of the iceberg when it comes to Indian cuisine. Being such a large country, India has a diverse amount to offer in terms of food, it can all depend on which region you're visiting, and whilst there may be too many to list we've put together a few must-haves whilst in India.
Curry is naturally first on the list, as India's most famous dish it wouldn't be quite right to visit without trying a curry. Buttered Chicken or a Korma are advisable to start with, many underestimate the intensity of flavour and spice in India, often expecting a similar degree of heat to the one at their local takeaway. If you are brave enough to try a hotter curry we suggest you do so towards the end of your trip once your digestive system has had a chance to acclimatise to intensity of the ingredients, a Vindaloo or Phall won't be for the faint-hearted.
A famous Dal we recommend is the Dal Bukhara, traditionally cooked for 18 hours, this smooth and delectable dish is a favourite in the Punjab area. Made with lentils, turmeric, cinnamon, chilli powder and more, this is a flavoursome and vegetarian friendly dish that's not to be missed.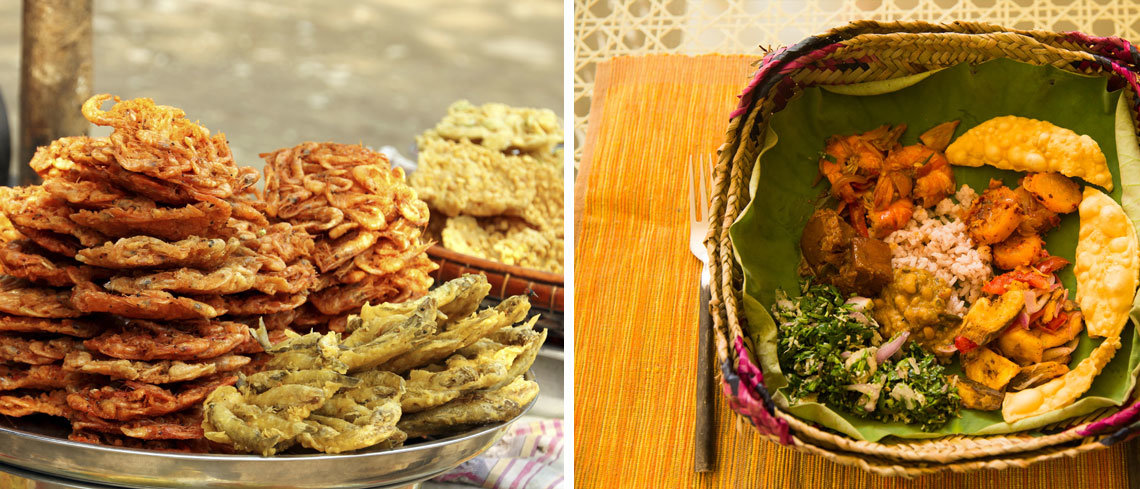 Malaysia
Malaysia rounds off our top five list as a country that has so much to offer in not just culture, but most certainly food. With such a blend of cultures in the population, namely Indian, Chinese and of course Malays, their food is influenced by all three and has made an impact all its own with its colourful recipes and tastes.
Nasi Dagang is a great place to start, and not just because it's often eaten for breakfast in parts of Malaysia. The base of the meal is rice steamed in coconut milk and fish curry, other ingredients can make the dish a little more adventurous with eggs, picked vegetables, coconut and more. As such a traditional and versatile dish, it's a must-eat for us.
For something both traditional, fun and tasty you must try Banana Lead Rice. Served on a large banana leaf, the dish consists of; Rice, gravy, poppadum, and pickles, whilst the dish is traditionally vegetarian it is common to ask for it to be served with curried meat or fish for a bit extra. Prepare to get a bit messy as banana leaf rice dishes are traditionally eaten with hands, so just make sure you're not wearing anything white!
Finally for a picturesque, fine-dining meal the Di Atas Sungei (translates to Above the River) offers a unique culinary experience, all set above a flowing river. Whilst there is no menu, there are Menu Masters who guide those who dine there through distinctive dining experiences using only the freshest and highest quality food. Located in the Tajong Jara Resort this is a unique restaurant that you can't afford to miss.
These are only a few of our food suggestions when visiting these exquisite areas, so be sure to hunt around when travelling, no matter the destination, and find what works for you!
For more information on our fine dining and culinary holiday options please contact us or give us a call on 020 7843 3531.
Itinerary:
11 day food trails of Thailand