Thailand Ticks All the Boxes
Thailand is a destination for everyone, but with so many beaches and hotels, which one do you choose?
The beaches of Thailand are the stuff of dreams - powder white sand, perfect azure clear waters and sublime food served by smiling faces. But with so much choice, how do you choose which one is right for you? We Thai lovers at Cleveland Collection have selected one beach hide-away for every occasion, whether you want to make your money stretch, have a romantic break with your loved one, dive in the best spots or simply stay in ultimate barefoot luxury.
Khanom - Aava
Best for: those who want more bang for their buck
We were one of the first companies to discover the little gem that is Aava, a perfectly-formed little number on Nadan Beach in Khanom, an area that remains untouched and off-the-masses radar. It's easy to get to though, a short flight from Bangkok or a ferry hop from Koh Samui. There are miles of white powdered deserted beach with only the odd local fisherman for company. The area is blessed with great natural beauty; mighty waterfalls in the hills, shoals of frolicking pink dolphins and an ancient national park - and it's where you will find the brilliant hotspot Aava. Owned by a Finnish couple, the Scandic-designed villas with a Thai twist are bright and airy. Perfectly formed, they are all equipped for your utter comfort. Food is top notch too, with the Aalto restaurant offering serious gourmet meals that will delight the palette, but for those who want a less fussy menu you can always grab a pizza from their on-site bakery. There is a cute spa and daily yoga. This is the place to chill, away from the hordes, and it won't break the bank.
Koh Kood – Soneva Kiri
Best for: ultimate barefoot luxury
Crucially, you get to the resort of Soneva Kiri instantly from your international flight in a private plane that protects you from the insanity of Bangkok. Everything on this perfect island is uncompromising - the 29 pool villas are massive, with vast sitting rooms, sleeping zones, two-bath bathrooms, and oodles of space for chill-out to the max. The island itself is lush and tropical, set amid palm-fringed hills around a secluded bay near Thailand's border with Cambodia, 80 kilometres off the Thai mainland. Lounge away your days sunbathing by the beach, or float away your troubles in the tepid tropical waters. It's a dream for snorkelling as the waters are teeming with multi-coloured fish. There is an award-winning Six Senses spa, so you know it will be top notch. Dining is an integral part of the pleasure of Soneva Kiri, with menus personally designed by three Michelin-star chefs, with the perfect location chosen by your own private butler.

Koh Lanta - Pimalai
Best for: remoteness, and diving in Thailand's best diving sites
This tropical resort is perfectly located in Thailand's south-west province of Krabi. Unlike its noisy neighbours of Phuket and Phi Phi, Koh Lanta has a slow, chilled out vibe. Pimalai is set amidst lush tropical gardens on the quiet southern tip of the island, and has direct access to a long stretch of a perfect white sandy beach. Here the architects decided to let the location speak for itself, with the gardens, the woods and the beach all taking centre stage. The accommodation, made of teak, bamboo and river stones is hidden amongst the thick cashew trees. It's cool and contemporary, simple and pretty, with full-length windows and wraparound terraces or balconies. You can score a pool if you feel like splashing the cash on a villa, or stay in a standard room, with even the latter affording oodles of space. Days are spent languishing by the enormous infinity pools, windsurfing, kayaking or diving in some of Thailand's best spots. There are hikes into the forest, you can even take an elephant trip, or simply explore this undeveloped area. There is a dreamy spa to sooth away your aches and pain and further enhance your experience at this gem.

Cape Yamu – Point Yamu by COMO
Best for: romance
Point Yamu by COMO is located at the end of the isolated Cape Yamu, on the less-visited Andaman Sea side of Phuket. The architecture is modernist, cool and contemporary, visually stimulating, and is a world away from Far East island-kitsch. The focal point is the view to the deep turquoise sea. The rooms, suites and villas all come in a variety of shapes and sizes, with bathrooms that house gigantic bathtubs. There is a 100-metre infinity pool and a handful of restaurants that serve a wide variety of high-quality Asian and European dishes - the breakfasts are worth rising early for. And of course there is the COMO Spa, where you know you are going to get the VERY best treatments and massages. This is the place to come to re-connect, and to enjoy each other. The super attentive staff will make sure your every whim is catered for. If you have had second thoughts about visiting Phuket, then Point Yamu by COMO might just change your mind.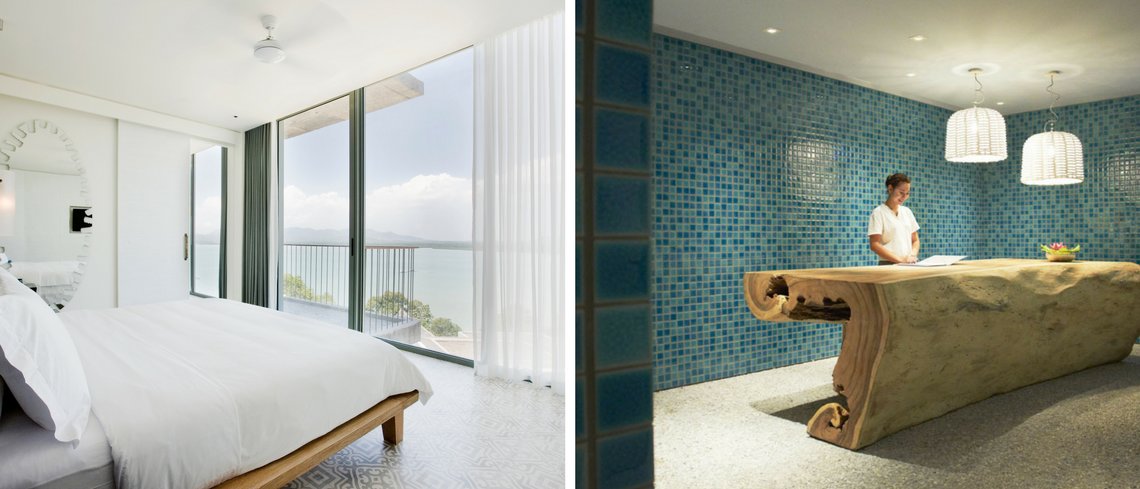 To book your Thailand escape, speak to one of our experts today. Contact them here or call 020 7843 3531.