Myanmar Cuisine: A Tasty Journey
The food of Myanmar is delicious and an important part of any visit to this incredible country is tasting as much of it as possible. While dishes here may not be as commonly known as those of its neighbouring countries such as India, China, and Thailand, the food here does not actually differ dramatically from other Southeast Asian cuisines. As is the case with most countries, the cuisine here is diverse and it would be impossible to summarise it in one short blog post, however, we have narrowed down a list of some of our favourite dishes that you simply must try.
Mohinga
This breakfast dish is possibly one of the most popular meals in Myanmar. A savoury dish consisting of rice noodles served in a fish-based broth and accompanied by ginger, banana stems, lemongrass, onions, garlic and more, this might not sound like the most appetising meal but there's a reason why this is the unofficial national dish. Depending on where you are optional extras can include hardboiled eggs, fish cakes, fried onions and other tasty additions, and to top it all off the dish can be seasoned with lime or chilli flakes to taste. Whether you enjoy it for breakfast or throughout the day from one of the many street vendors, Mohinga is always a hearty meal.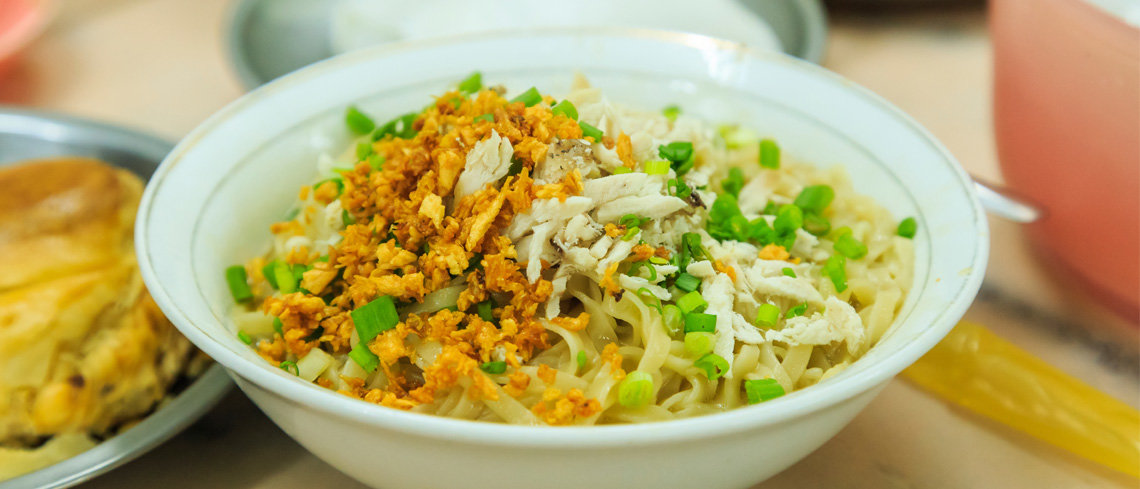 Salads
Some of the most famous dishes to come out of Myanmar have to be its salads. More interesting than you might initially think, salads in Myanmar are extremely flavoursome and one of the most popular kinds has to be Lahpet Thohk, more commonly known in the West as tea leaf salad. Myanmar is one of few countries where you can eat tea leaves as well as drink them, and this salad consists of fermented tea leaves alongside other ingredients such as peanuts, dried peas and ginger which results in a delicious dish of complimentary textures and flavours, and you get the added bonus of a caffeine boost!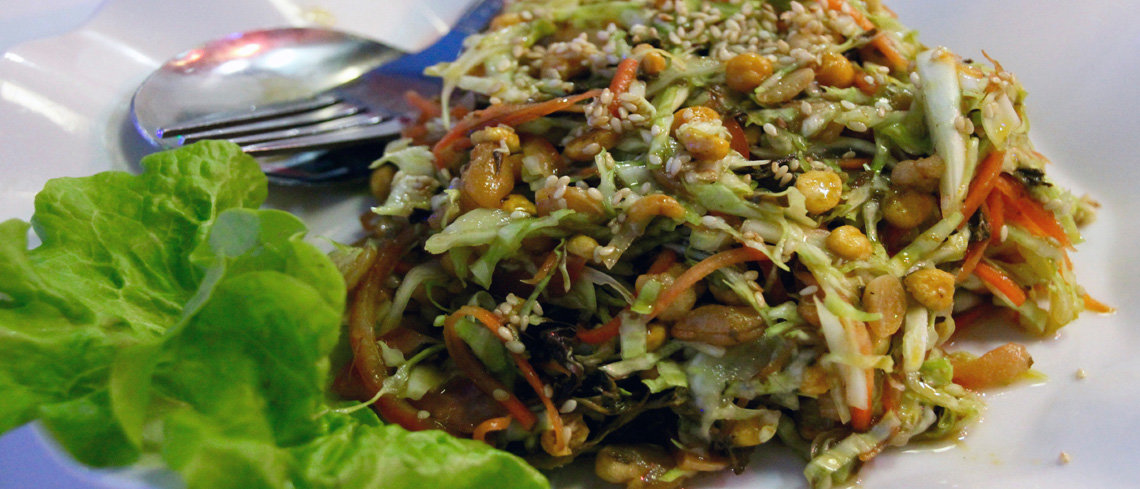 Curries
Milder than the ones you will find in India but just as tasty, Burmese curries are ideal for those who aren't as keen on spice or want to try a different take on curry. There are plenty of different varieties available, with different meats, fish, and vegetables all available to be served in a curry sauce that is oilier than ones you've likely encountered before; it is this oil that causes the milder flavour. Often you will find that curries are served with side dishes that are almost as enticing as the main dish itself, such as rice, salads, fried vegetables, and soups.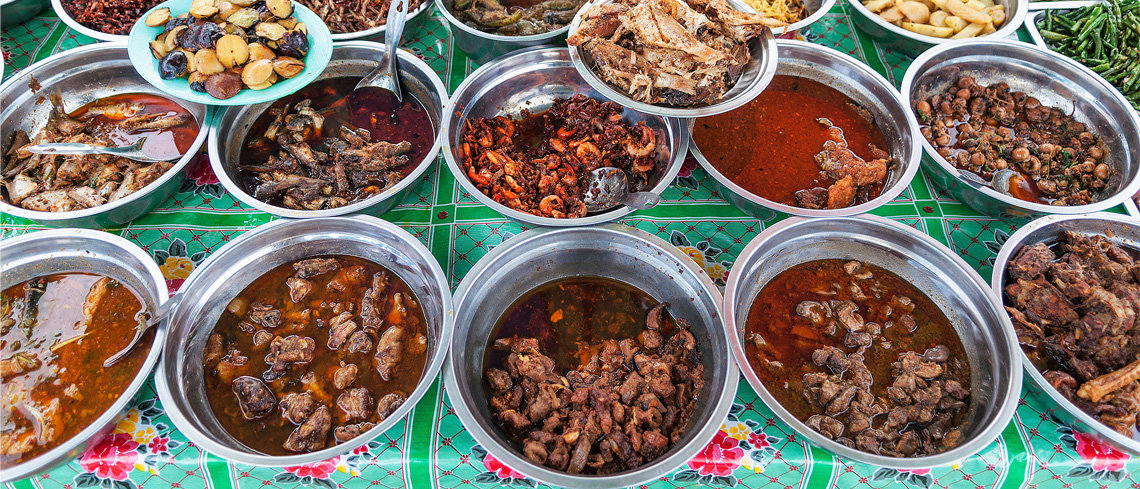 Deep Fried Foods
Pretty much anything that can be deep fried, more than likely will be deep fried in Myanmar, these being a popular type of street food that is readily available almost everywhere. Everything from samosas to tofu is available deep fried and often accompanied with some kind of topping or dip, or with the fried food even being used as the topping itself. While not necessarily the healthiest food around, you won't want to miss out on sampling this snack at least once during your trip.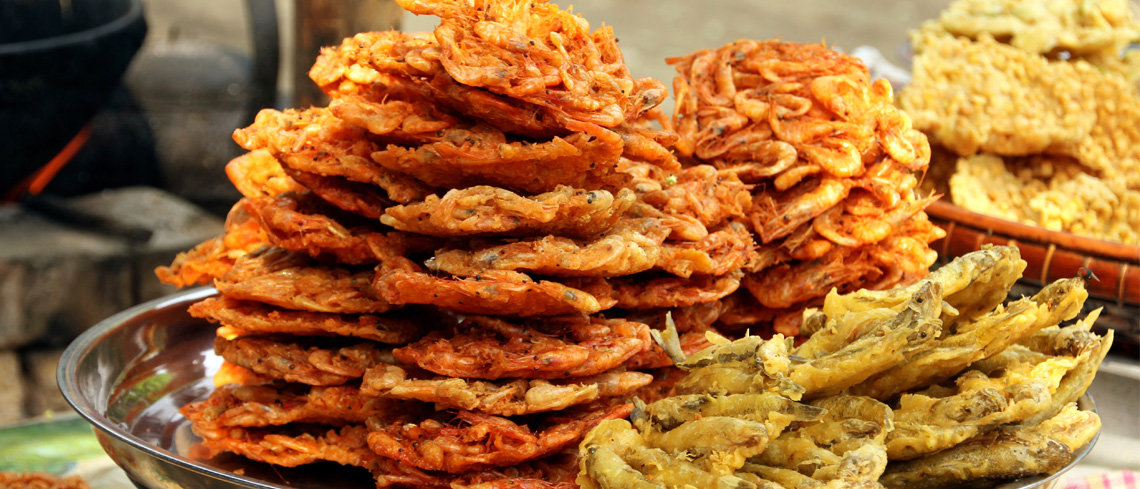 Thali
Less of a dish and more of a dining experience, and one you won't want to miss out on, Thali is a kind of all you can eat scenario. Served on a metal platter, for a small charge you will be able to enjoy unlimited rice, soup, curry, chutney, vegetables and whatever else is going. While much of the food in Myanmar tends to be great value, this is one meal where you definitely get your money's worth so be sure to try it while visiting.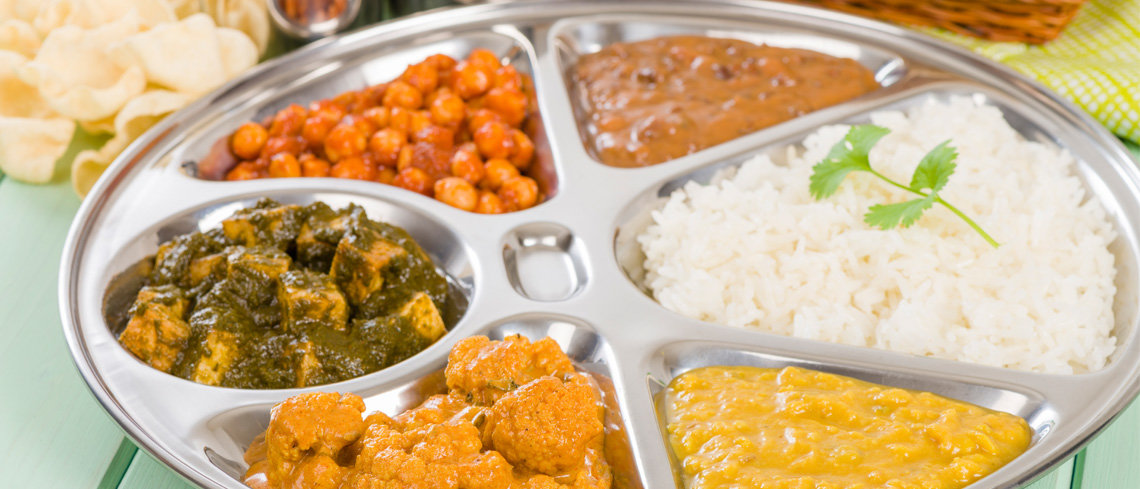 Rice and noodle dishes
Rice and noodles feature heavily in Burmese cuisine, usually accompanying other dishes or being enjoyed as a light snack between meals. One variety of noodle and rice you should make a point of trying are Shan noodles and Shan rice. Both of these dishes are named after the region of Burma from which they originated. Shan-style rice is rice that has been prepared with turmeric and is usually topped with fish flakes and garlic oil, meanwhile Shan-style noodles is a dish consisting of sticky rice noodles usually served with pork or chicken, along with vegetables and other additions such as peanuts or sesame seeds, this dish is available both dry and in soup.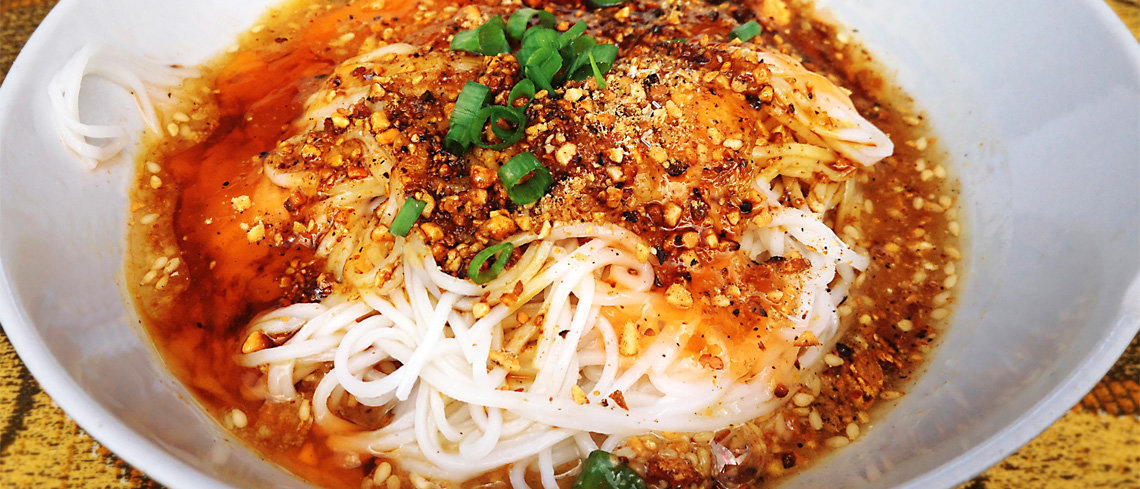 If you're interested in visiting Myanmar and sampling some of its tasty dishes for yourself, contact one of our travel experts at info@clevelandcollection.co.uk or call 020 7843 3531 for help in creating your perfect bespoke holiday.