Maldives' Manta Feeding Frenzy
The underwater paradise of the Maldives is known as a mecca for divers. Here Aaron Pinkwasser - himself a seasoned diver – shares his experience of a spectacular and rare natural event – the "Manta Feeding Frenzy".
I'll admit, I am a bit of a spoiled diver. I like warm, clear water, colourful reefs and plenty of big stuff to see. I'm not into dry suit diving in icy waters, murky visibility surrounding WWII shipwrecks, or trolling the seas in search of a tiny seahorse. I had had a few all-too-brief encounters with mantas in Thailand that left me wanting more. I had become obsessed with these gentle giants and discovered that the Maldives was one of the extraordinary places on earth that could almost guarantee face time with these beautiful and elusive creatures...if your timing is right.
A Unique Underwater Event
Between August and September, if you venture by seaplane to one of the northernmost atolls in the Maldives, you have a two to three-day window to witness one of the most unique underwater events. Each year in Baa Atoll, when the tides are right and the moon is full, huge schools of plankton congregate in Hanifaru Bay, a moon-shaped coral reef. When the tide goes out, the plankton gets caught in the bay and that is when the real magic begins.
Hundreds of manta rays simultaneously enter Hanifaru Bay and perform an elaborate feeding ritual, consuming the plankton over the next few days until there is nothing left. Nobody knows what signals the start of the feeding, but the mantas arrive together in a single-file line and form a tornado-shaped vortex, corralling the plankton in the middle, then they swoop in with their mouths wide open, scooping up their much-anticipated nourishment. For such an orderly start to the ritual, it quickly descends into a chaotic free-for-all. These normally graceful and gentle filter-feeders work themselves into a feeding frenzy, crashing into each other in a haphazard manta soup.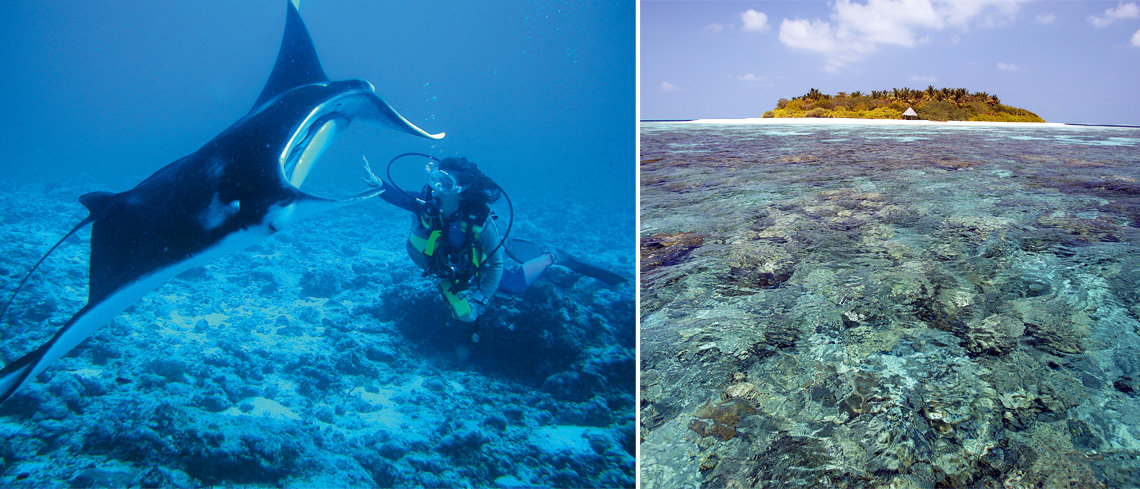 The Mysterious Ways of Manta Rays
Despite their enormous size, mantas are absolutely no threat to humans and an absolute treat to encounter. While other marine life, such as certain species of sharks and many species of fish, never leave the safety of the reef on which they were born, mantas are pelagic mammals, which means that they constantly roam the open ocean. Very little is known about mantas' migration patterns - they are notoriously difficult to track due to the depths to which they can dive. Normally seen towards the surface, slowly cruising nutrient-rich waters in search of a leisurely meal, with a flap of their enormous wings, they are surprisingly fast and can easily descend to depths beyond the recreational diving limits of most other mammals.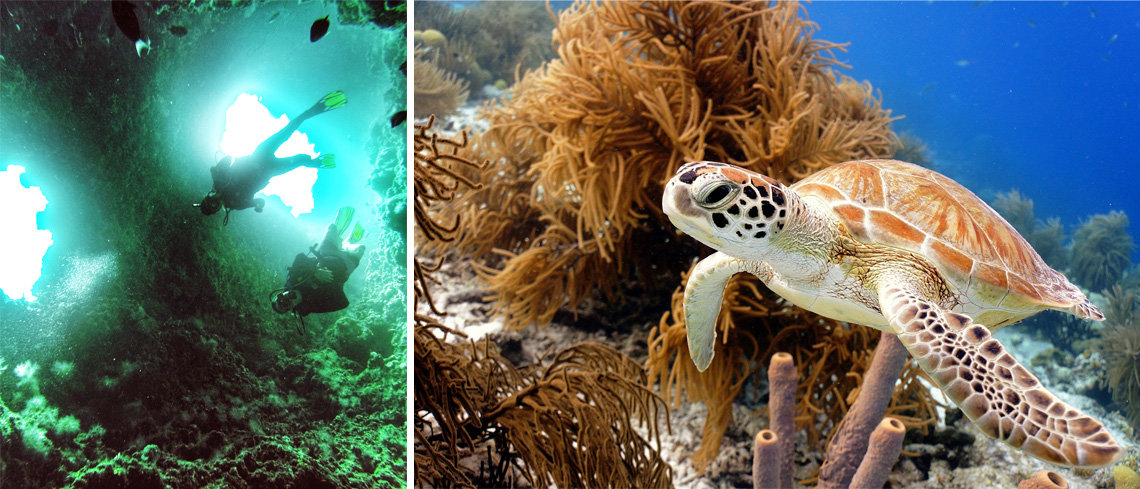 Timing my visit to coincide with the Feeding Frenzy
In order to time my visit to coincide with the Feeding Frenzy, I researched tide charts and moon cycles and picked a week at the end of September when I found availability on a live-aboard dive boat that was venturing north to Hanifaru Bay. I travelled to the Maldives in 2011, the last year that Hanifaru Bay was open to scuba divers. The site has now become a UNESCO Biosphere Reserve, only open to a limited number of snorkellers in an effort to reduce the number of boats entering the area to allow the reef to naturally rebuild itself.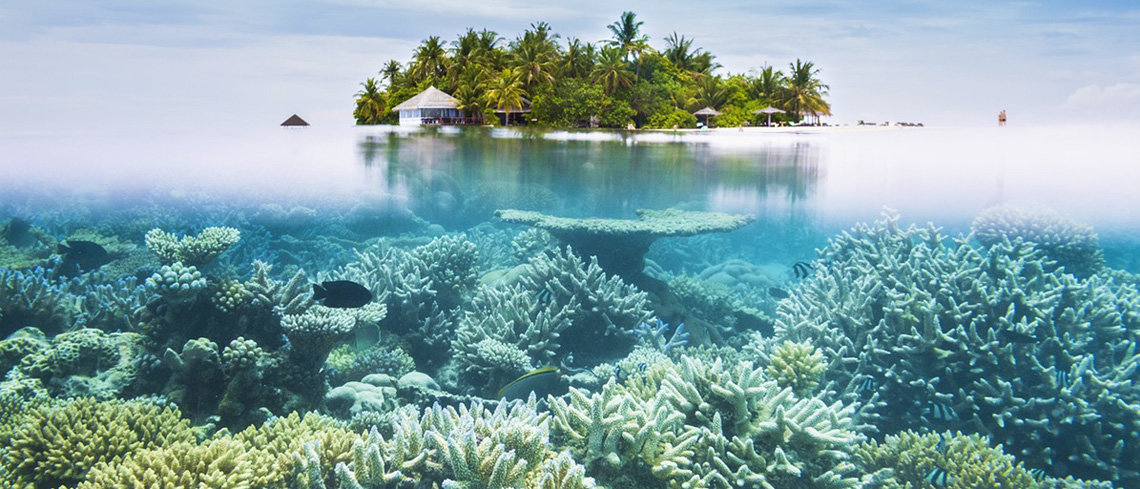 A Magical Underwater Aerial Experience
Our ship cruised Baa Atoll for two days with no signs of mantas. When our dive guide received some unrecognisable sign that the time was right, he signalled us to get geared up in our snorkels, masks and fins and jumped into an ocean of manta soup. I floated on the surface watching an underwater aerial performance by no less than 200 mantas. They came straight at me, mouths agape, effortlessly flipping into a dramatic back roll missing me by inches. I dived down to get a view from underneath and occasionally got hit in the head with a careless wing, which is extremely unusual for these creatures who don't often make physical contact with humans.
An hour and a half later I had to drag myself out of the ocean, putting an end to one of crowning highlights of my dive career. I didn't realise that I was in for another treat. Later that day, we once again entered the manta-crowded waters of Hanifaru Bay, this time descending eighteen metres to the sandy ocean floor and knelt next to the coral head, as instructed, waiting.
A few minutes later, two giant mantas cautiously approached, hovering over the coral. Small fish ascended from the coral and feverishly picked the parasites off the mantas. These underwater cleaning stations are somehow well known by the marine life and regularly visited to remove the harmful critters that accumulate on the mantas' skin over time. With a five-metre wingspan, these mantas were the largest I'd ever seen, easily the size of a car. They blocked out the sun overhead as they took turns getting their wounds cleaned. Each time they switched positions, they passed over a wall of us divers and they seemed to enjoy the bubbles tickling their undersides as they did!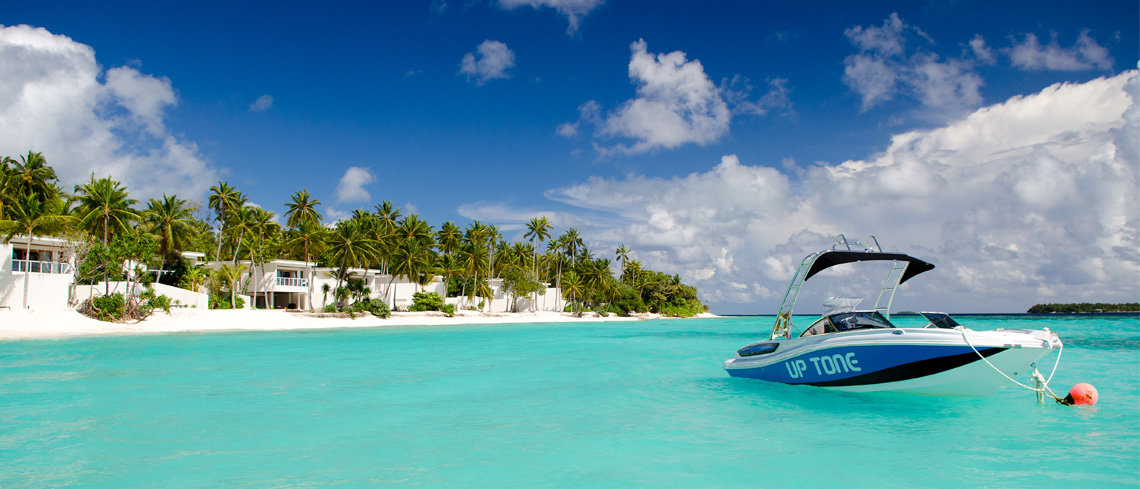 An experience the whole family can enjoy
Even though the site is closed to dive vessels for conservation, you can still experience close encounters with these incredible creatures through snorkelling excursions offered from the nearby luxury resorts on the sandy beaches of Baa Atoll. You needn't be a certified diver and it is a once in a lifetime experience that the whole family can enjoy.
To experience the magic of the Maldives first-hand, speak to one of our travel experts on 020 7843 3531 or info@clevelandcollection.co.uk.