Bhutan travel guide: Everything you need to know before you go
The land of the thunder dragon - Bhutan is a tiny little nation located between India & China. To begin with, you will be overawed by the stunning landscape of the Himalayas, where you can see the snow covered mountains rising tall over deep gorges and lush forests. Within this awe-inspiring postcard picture, you can see fort-like monasteries and dzongs. With such a lovely panorama as your backdrop, you can enjoy some colourful and spectacular festivals, surrounded by people steeped in their culture. A country where you can enjoy archery contests, go trekking and experience the lovely fauna and flora of this vibrantly amazing country.
So if you are looking to travel to Bhutan, then we have compiled a short list of things you should know before you plan your holiday to Bhutan.
1. When to Go
Bhutan offers clear skies and beautiful weather in the months from September - November, making it the best time to go. Also, the most number of festivals in this country are held during this time, which is another attraction. March - May is spring, and has pleasant weather too, however, there is a chance of rains.
June - August is summertime and it's super hot and super rainy! December - February is cold, and generally not the best times to travel.
2. Gross National Happiness
Up until around the seventies, Bhutan was not open for tourism. Situated high up in the Himalayas, this country believes in it's 'Gross National Happiness'. They have chosen to follow a policy which preserves and promotes their cultural & spiritual heritage. The government wants to reduce the impact of tourism on its GNP by requiring that all tourists need to be part of pre-planned guided tours. You will always need to book your holiday to Bhutan through a travel operator.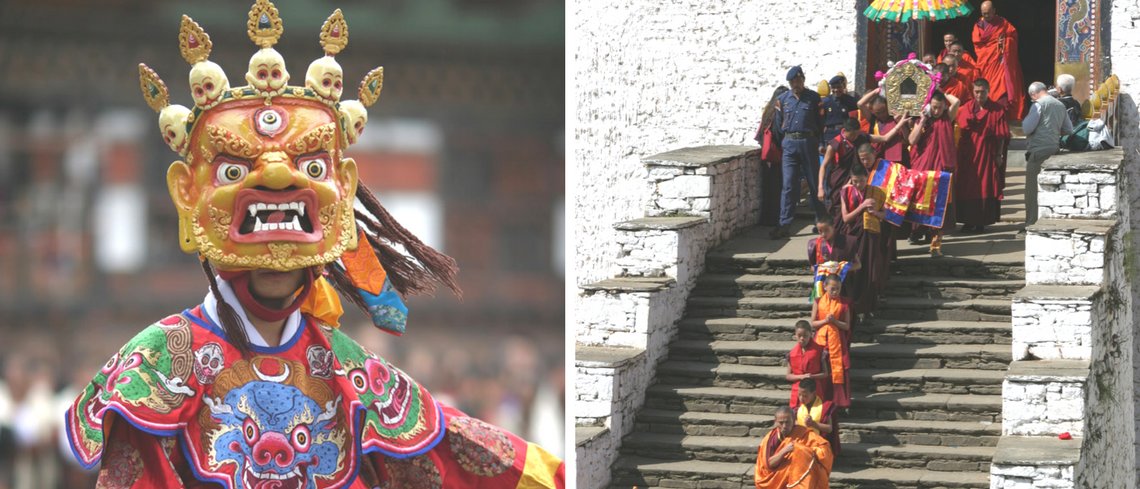 2. Visas
Now you don't need some 'special' help to get a visa as the process is pretty straight forward. Your passport should be valid for a minimum period of six months from the date of entry into Bhutan and leave the rest with us as we will take care of all visa arrangements for you, generally, it requires about a two-week timeframe.
3. Holiday wardrobe
This is a country of changing seasons, so variety is the spice of your wardrobe. From sunny skies to downpours you should be ready for anything. So stick with a layered wardrobe, it will serve you well. Even if you don't plan to hike, keep good walking shoes, trust us they will be handy. Keep one of those lightweight but warm jackets for the evening.
4. Money and Costs
Bhutan's currency is the Ngultrum (Nu.) ATM's are not extremely reliable and generally available more in large towns, where you can't withdraw a lot. So - KEEP CASH HANDY, but in what form you ask - USD & INR. USD can be exchanged for Ngultrum (Nu) with your guide as well, & INR is easily & widely accepted.
5. Do you smoke?
If the answer is yes, then let us tell you this little fact. In the entire wide world, Bhutan is the only country that does not allow sale & production of tobacco. Good news for you is that you can bring in two hundred cigarettes into the country as a tourist (you will have to pay 200% tax duty). However, before you light up check with your guide where to smoke. There is 3 yr prison sentence for smuggling, and dealers will only sell to people they know. Keep your tax receipt handy in case you are asked.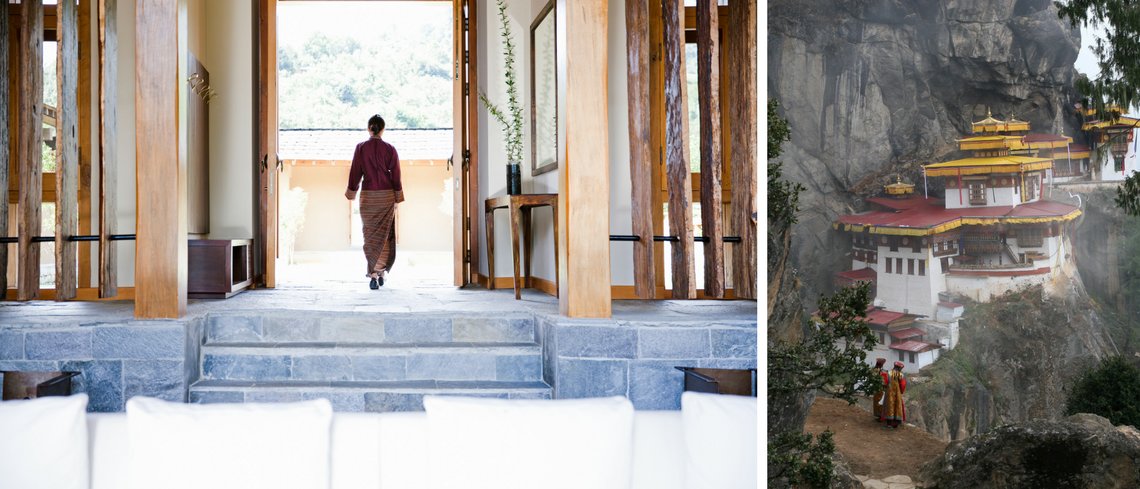 5. Sunshines & sunburns
Now if you know great, if you don't - well Bhutan is located at a low latitude but has a high altitude. You may ask, pray what does that have to do with my sunburns? Well, it means the solar radiation in this little country is quite INTENSE. Which means, even if the weather reads grey & cloudy you can STILL get sunburned. So to ensure a happy trip keep a hat, use a high factor sunscreen, and keep your sunglasses on hand.
6. Minding your manners with the guide
The guides wear the traditional outfit gho and they will give you information on culture, religion, history etc. However, they will not offer information on anything controversial. It's advisable to steer away from conversations that are negative i.e. about western influence, their monarch, and the pressure the GNP places on the people for e.g.! Do remember to tip the guide at the end of your trip, in cash or a gift from your country. Tips can vary from $15-20/day.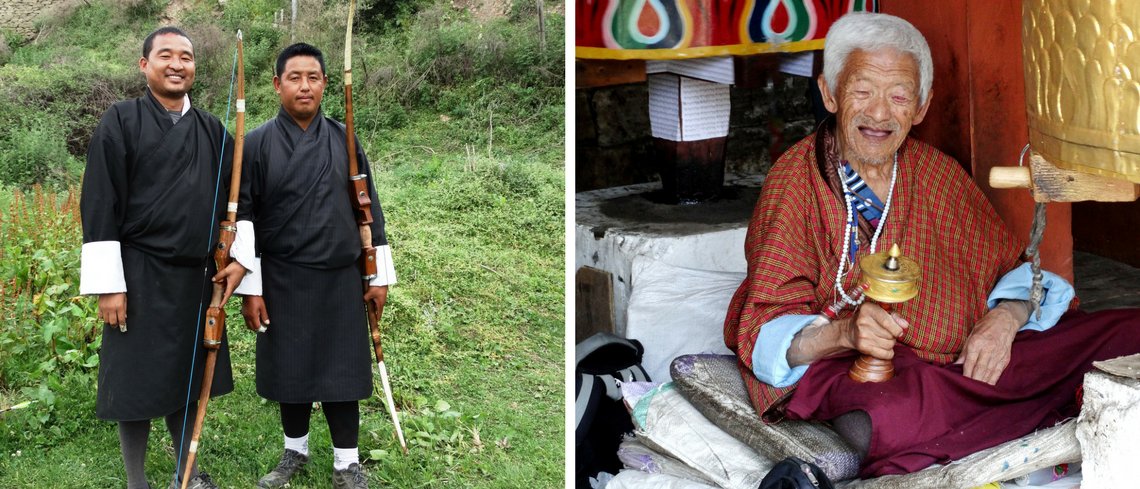 7. Health & Safety
Visit your GP and get all the necessary shots (e.g. malaria) before you travel to Bhutan. Altitude sickness is a common problem, so also stomach upset - so be aware and keep meds handy. Drink bottled water, avoid ice cubes and wash vegetables and fruit before you consume them.
8. Hot and spicy
Know that a dish without chillies isn't a dish in Bhutan. For example, their national dish ema datse is basically chillies mixed with cheese, served with nutty rice. Though most chefs will temper the chilli in their preparation, keep your water handy and let your guide know your capacity beforehand.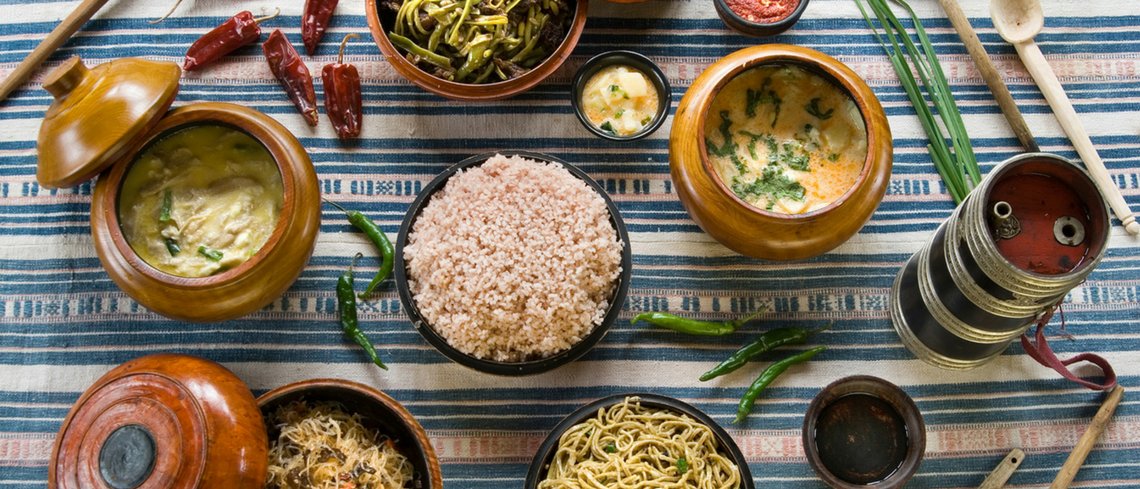 Last bit pack in a torch and small flask if possible in your pack!
Now don't let all that put you off, because Bhutan is truly a destination worth visiting for any wanderlust-infected soul. So get in touch with our travel experts at 020 7843 3531, or click here and they will take care of your perfect holiday to Bhutan.