Bhutan - A journey in pictures
Bhutan, the only Buddhist nation, is a country with some of nature's most wondrous sights. It includes the highest mountains and monasteries that perch on cliff faces. It's a culturally fascinating nation, while also offering hikers and bikers a playground. Both physically and culturally Bhutan is a unique place to visit. We invite you to a visual journey that takes you through just some of the wonders that Bhutan has to offer. Enjoy it!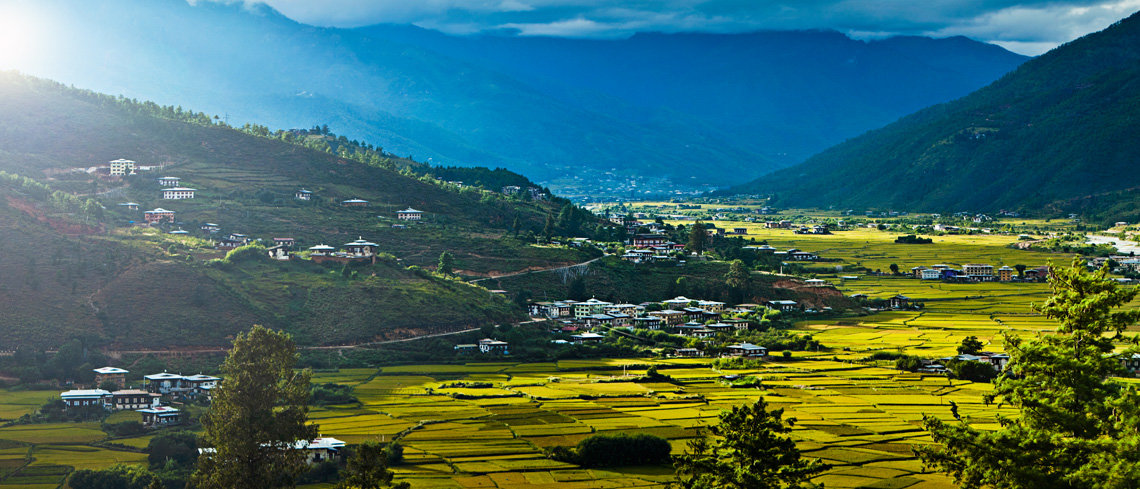 When you see Bhutan as you descend into Paro Airport, you will realise that the landscape is way beyond beautiful than what you had or could have ever imagine. It's like being inside a parallel world, where old monasteries, traditionally built houses, rivers winding their way through mountains spread across a lush open verdant landscape.
A traditionally built house in Bhutan is the norm, which means even the most banal houses will have colourfully intricate designs as part of their architecture.
The national sport of Bhutan is archery called "Da" in Dzongkha. This is a sport that royals and locals alike play, and trash talking is allowed! If they win a point the team cheers, if they lose the opponents jump in front of the target to jeer, and feel free to join in on the fun.
Perched up on a sheer cliff at 10,240 feet above the Paro valley is the Paro Taktsang, a jaw-droppingly stunning location. Built in 1692, this cultural icon of Bhutan offers you breathtaking views which make the climb so totally worth it. It is a fairly easy hike which can be completed in trainers at a medium pace in trainers. Legend says that Guru Rinpoche flew to this place on a tigress from Tibet to overpower a demon and meditated here. It is known that Guru Rinpoche is the founder of Tibetan Buddhism.
The dzong in there serene but isolated surroundings are monastic fortresses and reflect in a true sense the spirit of the thunder dragon kingdom which has now come into the spotlight after years of solitude. Today about 18 of these dzongs are still functioning and serve as religious and administrative centres of the Bhutan districts.
Once a place that outsiders could never enter, catching a glimpse of the Himalaya is extremely tantalising. Jhomolhari standing at 23,996ft is the second highest peak in Bhutan, and you can see the old fortress that was built to defend against Tibetan invaders.
Spinning a prayer wheel in Punakha, situated in western Bhutan, is a must do in this amazing country. The Intricately and ornately designed wheels have thousands of mantras written on paper inside them. It is said that by spinning the wheel, you are chanting the mantras inside a 1000 times.
The Bhutanese countryside is a sight to see with terraced rice fields spread across the rolling hills. Farming is still carried out with age-old practices, and Bhutan aims to be a 100% organic agricultural industry by the year 2020.
Known as "fortress of the glorious religion", Tashichho Dzong in Thimphu was built in 1216. It houses a vast collection of shrines, temples & administrative buildings such the secretariat, throne room, and offices of King of Bhutan.
The best time to be in Bhutan is during festival season. Most Bhutanese towns have an annual festival or Tsechus as they are called. They often have performances like the masked cham dance which are based around historical or religious themes.
Traditional culture remains strong in Bhutan, where the native dress is still part of daily life, and you can see most people going about their everyday life in their native dress. They are pretty comfortable we are told, you can try it out!
You can visit all these and many more places on our 8 night Bhutan Highlights tour.
If you would like to jet off to Bhutan to see these sights, speak to one of our travel experts by calling 020 7843 3531 or leave us an enquiry.