An epic hot air balloon journey around Myanmar
Balloons over Bagan has been offering spectacular sunrise flights over the ancient city of Bagan since 1999 and is considered a must-do for all visitors to Myanmar. More recently they have expanded their daily service to Inle Lake, home of the Inthar tribe, and famed for its leg rowers and floating villages.

For the ultimate in both luxury and exclusivity, Balloons over Bagan offers the opportunity to join one of its 2-day all inclusive balloon safaris. Each morning starts with a balloon ride in a different part of Shan State and is followed by tailor-made tours and excursions. A travelling local chef and butler accompany the safaris, providing beautiful meals and impeccable service in stunning outdoor settings away from the crowds.
The adventure starts with an early morning flight over the lake, taking in sweeping vistas of traditional stilted houses seemingly floating between mazes of green vegetation. The contrast with the shimmering blue of the lake and the frame of distant mountains makes for an unforgettable and unique flight. Limited to a maximum of 6 passengers, a leisurely breakfast is taken on the tailor-made raft as you drift back to your hotel. After freshening up, it's off to the local markets to haggle for a basket of fresh produce, which under expert tutelage you will be able to cook for your traditional Shan lunch. It's a great way to connect and to gain further insight into village life on the lake.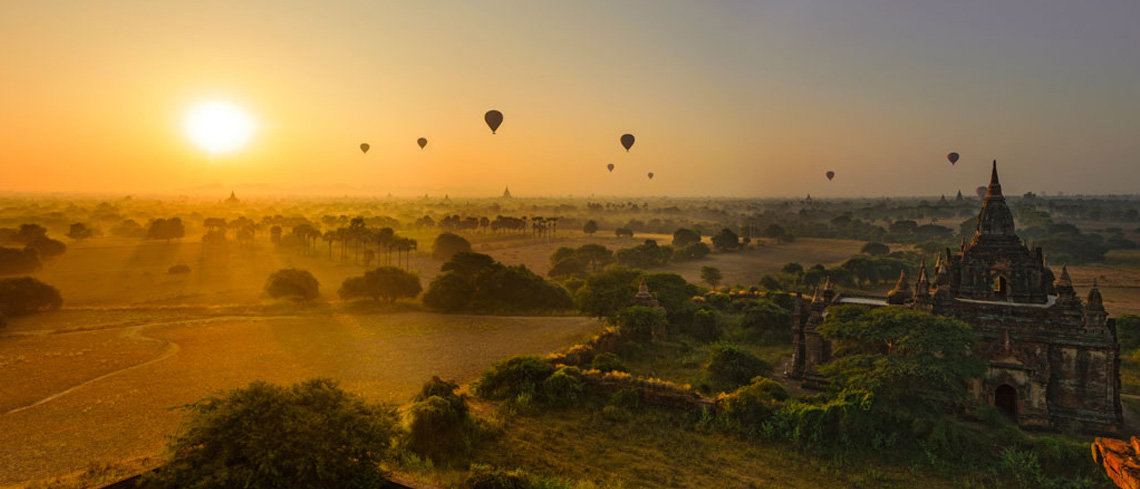 After lunch, the journey continues up into the Shan Hills to a small village of the Danu Tribe just outside Pindaya, famous for its glittering caves and local paper making. The village is set at the foot of hilltop monasteries overlooking patchwork fields of green yellow and deep red. Far from the normal tourist routes, sunset cocktails are served overlooking the valley before retiring for an intimate candlelit dinner and overnight in the village headman's house.
The following morning another balloon ride awaits from the village school playing fields, always accompanied by an enthusiastic crowd of onlookers both old and young. The scenery here is reminiscent of parts of Tuscany, with ancient pagodas and thatched houses standing in for medieval villas. Here in the more remote parts of Shan State, landing is greeted by crowds of excited well-wishers allowing for some amazing interactive moments and authentic photo opportunities. The final afternoon provides the opportunity for further insight into the local paper making industry and a visit to the Caves filled with images and statues of the Buddha, before heading on to your next destination.
Sample Itinerary: 16-day safari in the Shan state
This blog is written by the co-founder of Balloons over Bagan, Brett Melzer. For more information on the Balloons over Bagan experiences we offer on our tailor-made holidays, contact our travel experts on 020 7843 3531 or info@clevelandcollection.co.uk or make an enquiry here.