A Guide to the Cities on Our India Cricket Tour
With our escorted cricket tour to India fast approaching this December, we thought we'd take a closer look at the cities you'll have the chance to explore during your travels. As well as of course watching the 4th Test match in Mumbai, there will also be ample opportunity to explore some of India's most wonderful cities, with you journeying through Delhi, Agra and Jaipur before finally arriving in Mumbai for the India vs England match. While you will, of course, have guides helping you to discover all the amazing sites within these cities throughout, to help you brush up on your India knowledge before you depart we've compiled this brief guide.

Delhi
A city with a rich history just waiting to be uncovered, Delhi is the first stop on the tour. Manic and magical, Delhi is one of the most populous cities in the whole of India, and the noise and excitement of the streets very rarely die down here. In our opinion, the beauty of Delhi lies in getting off the beaten track and discovering the backstreets where hidden gems can be found, especially when it comes to the food. The busy and colourful bazaars are sure to be another highlight of any visit where you can pick up all kinds of treasures making for great souvenirs. Beyond the enchanting chaos, Delhi also has such a rich history which you should definitely take the time to delve into. Many monuments stand as a reminder of Delhi's past, from the India Gate in the centre of New Delhi which commemorates the lives of 70,000 soldiers lost to war with the British army, to the Red Fort in Old Delhi which served as the home to Mughal Emperors for over 200 years and includes museums that offer more insight into India's past.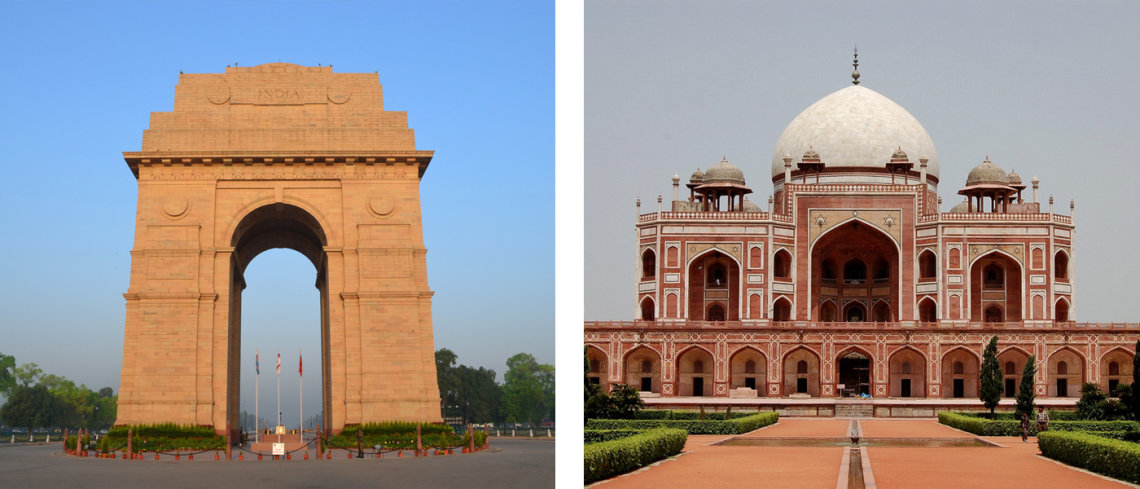 Agra
Located in the North of India, Agra is perhaps most famous for being home to the iconic Taj Mahal. This ancient mausoleum complex attracts visitors from all over the world and is considered the pinnacle of Mughal architecture, we urge you to visit at different times of day if possible to appreciate how it illuminates in different lights. Yet to come to Agra just to see the Taj would be a shame when there are so many other impressive sites to be seen here too. Agra Fort is another must-visit, this expansive UNESCO World Heritage Site is another Mughal masterpiece and time should be taken to explore the palaces and mosques that lie within its thick sandstone walls. Again, we highly recommend exploring the markets should the opportunity arise where you can find unique wares unavailable anywhere else, as well as generally get a feel for the local way of life.

Jaipur
The capital of Rajasthan, Jaipur has earned itself the nickname the pink city, the reason for which will become abundantly clear as soon as you lay eyes on the buildings that make up this sprawling city. Back in 1876 buildings in Jaipur were painted pink to welcome Edward VII, and to this day they still retain their distinctive hue that charms visitors and earned the city its nickname. When not admiring the general beauty of Jaipur and being swept up by the pulse of its busy streets, there are plenty of sites you should make a point of visiting. The City Palace is a popular attraction amongst tourists, with many of its courtyards and buildings open for you to explore. Another site we love is Hawa Mahal, one of the most recognisable buildings in the city due to its narrow structure that stands five stories tall, this unique palace used to allow women in the royal household to look upon day-to-day life in the streets without appearing in public. With so many beautiful things to see, it's difficult not to become enchanted by Jaipur, and a visit here is sure to be a highlight of any trip.

Mumbai
The final stop on the tour is the bustling metropolis Mumbai. This vibrant city is the economic powerhouse of India and for some can be rather overwhelming with its unrelenting noise and crowds, but for us, that is part of what we love about it. Life never stops in Mumbai and no matter what the time of day you will always find something interesting going on. One of our favourite things to do in Mumbai is simply watching the local way of life and be swept up by the pace of it all, but for those interested in sightseeing there are also some fascinating sites to be uncovered. Make the trip to Elephanta Island and be awed by the cave temples found here, visit the museums and immerse yourself in India's history and culture, or simply take in the grand colonial architecture of the buildings located in the city centre – there is plenty to keep you occupied.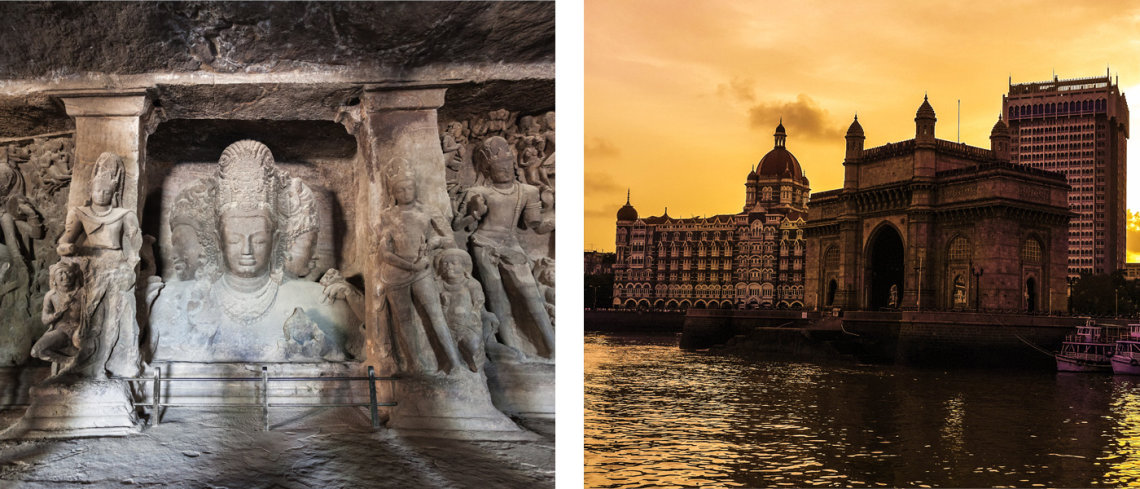 If you are interested in planning an itinerary that takes you across these cities, click here or call 020 7843 3531.