A Guide to Thai Cuisine
Thai food packs a punch with vibrant and complex tastes. Dishes are usually comprised of a combination of four characteristic flavours: spicy, sour, salty and sweet. Common local ingredients used to create these aromas are basil, chilli peppers, cilantro, coconut milk, ginger, curry paste, galangal and kaffir lime. Although trying Thai food may be intimidating, this guide to Thai cuisine can help you to order dishes suited to your taste buds.
Soups
Sit down in front of a steaming bowl of soup and prepare to experience the ultimate in comfort food. For a twist on a comfort food classic, order a soothing bowl of coconut chicken noodle soup (tom Kha Gai). For a bolder taste, opt for traditional tom yum, prepared with fish sauce, galangal, lemongrass, kefir lime leaves and chilli peppers. If you are a fan of seafood, prawns complement this soup well, but beware that they are cooked whole, so you will have to de-shell them yourself. While you are dining, you should also be aware that not all of the ingredients in your bowl are for consumption. For example, lemongrass and galangal flavour the soup, but are meant to be discarded.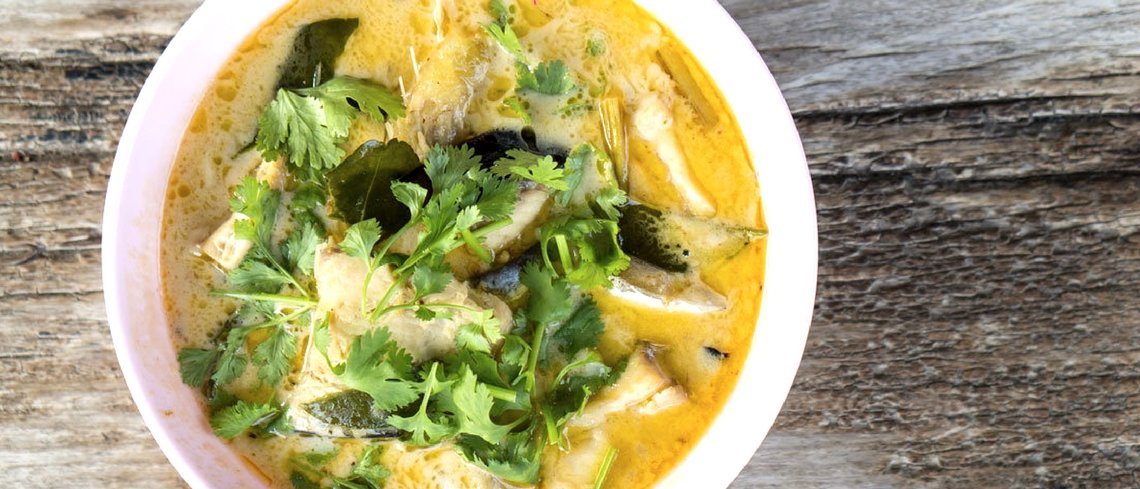 Noodles
In Thai cuisine, noodles are uniquely eaten with chopsticks. (Rice dishes and other plates are usually eaten with a fork and spoon.) The classic dish, Pad Thai, is now available across the world, but Thailand is the best place to experience the stir-fried rice noodles. Common additions to this sweet and tangy dish are eggs, bean sprouts, peanut and meat or seafood. Instead of long and thin rice noodles, you can opt for broad Chinese-inspired rice noodles called pad sei ew. They are cooked with both light and dark soy sauce along with Chinese broccoli, egg and finely sliced meat or seafood.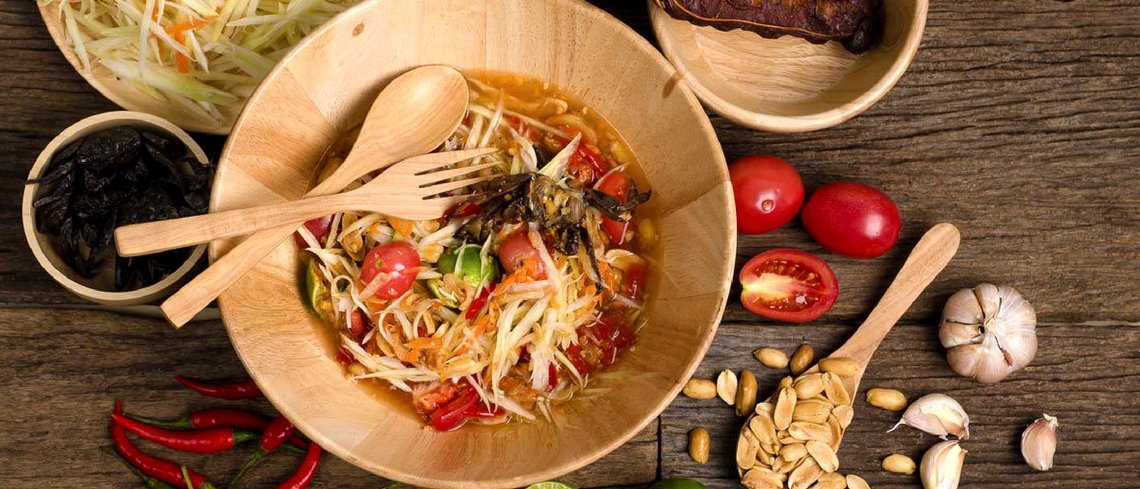 Rice
You may be surprised to learn that rice is a common breakfast dish. A porridge-like meal is prepared by boiling rice in broth with chicken, pork or fish. It is very easy for the stomach to digest. A heavy rice recipe is glutinous sticky rice, named Khao niao. Khao Khai Chiao, or omelette rice, is another breakfast option that may be served with cucumber or stir-fried vegetables, minced pork and chilli sauce. Plain white rice is usually served with a combination of fried or steamed veg and meat, and you can always dress up the meal with condiments such as sugar, fish sauce, ground peanuts, chilli in vinegar or dried chillies. Fried rice is always a nice option, too, because the dishes perfectly mix all of the ingredients into a quick meal.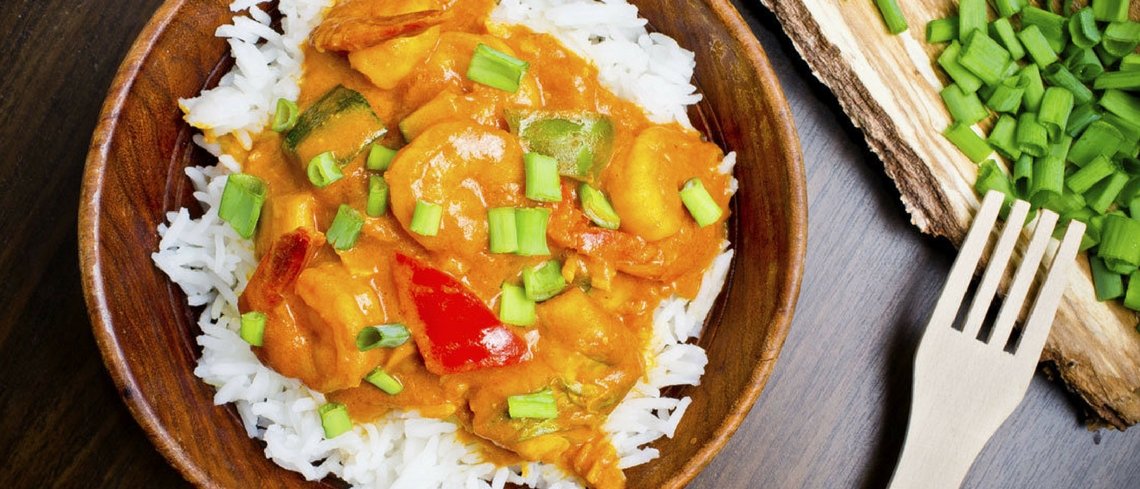 Curry
While India may be seen as the curry capital, the Thai variations are equally fragrant and delicious. Some key differences are the Thai curry is created with curry paste and fresh herbs instead of dry spices and tends to be thinner. The sweetest of the curries, Massaman, is most similar to Indian curries with a base of cardamom, cinnamon, cloves and nutmeg served with potato and peanuts. Vital components of yellow curry are turmeric, which is responsible for the golden hue, and coconut cream, which contributes to the richness.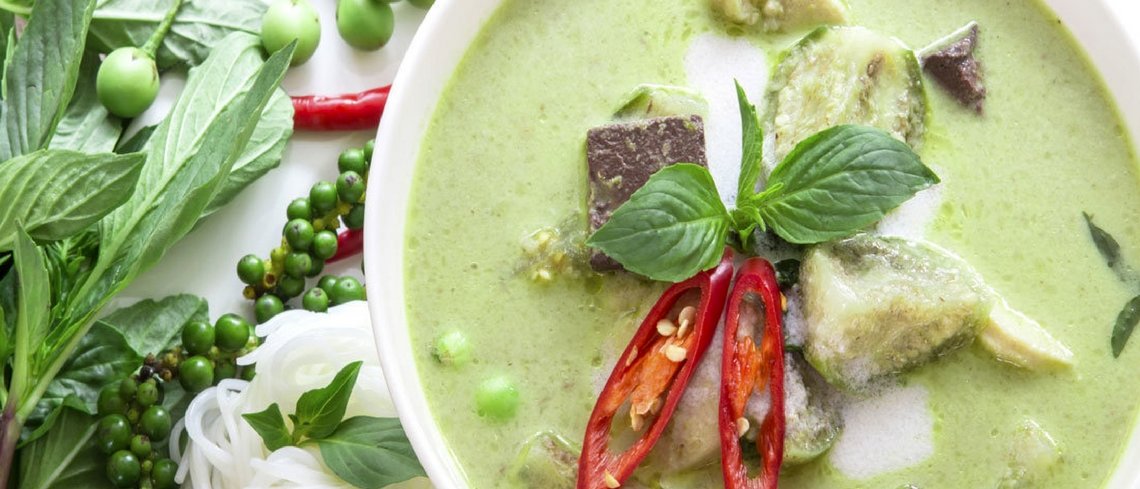 Dessert
With zingy fresh fruit readily available at markets, you can always easily find dessert. Fruit options include pineapple and sweet mini bananas. Other delectable local fruits are rhambutan, mangosteen and dragon fruit. Brave souls can try durian, a fruit so pungent it has been banned on some public transportation systems. Mango with sweet sticky rice is a Thai classic, but if you want something more refreshing, try the grass jelly. The jelly is served with shaved ice and brown sugar, which will cool you down and quench your thirst.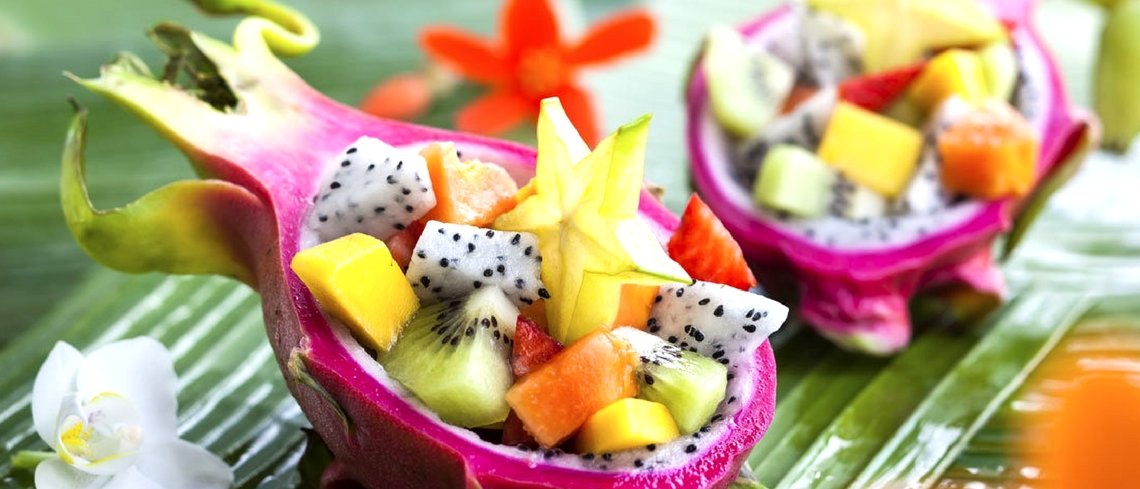 In Thailand, there are many unique dishes to try. You can even opt to munch on grasshoppers, worms, larvae and scorpions if you are adventurous. But however open you are, and whatever your spice tolerance, you will find delicious food in Thailand. Visit our Thailand supplement page where Michelin-starred chef Raymond Blanc of France recommends his favourite food markets and restaurants that must be visited when on holiday in the Land of Smiles.
To plan a holiday to, or culinary tour of, this magnificent country, please give our travel experts a call on 020 7843 3531.