10 Cool Things about Pangkor Laut Resort
Pangkor Laut Resort is among the most luxurious resorts that Malaysia has to offer, with its wide range of excellent facilities and activities meaning that there really is something for everyone to enjoy. We've put together a list of 10 cool things about the privately owned island that will reveal just why it has won countless awards and is favoured by so many.
1) The Chef's Kitchen Experience
An experience to excite the foodies, Pangkor Laut offers guests the chance to learn some expert tips and culinary secrets from the resort's executive chef. You'll have the opportunity to learn all about Asian herbs, spices, and recipes as well as enjoy a half day culinary excursion. You'll visit the neighbouring Pangkor Island's fishery, dried seafood markets, a noodle maker, and a floating fish farm. When you return to the resort you'll enjoy a bath house experience before having a lesson in South East Asian cooking. The experience is sure to be an invaluable one for anyone with a keen interest in food, with you gaining knowledge that you'll be able to take home and keep for life.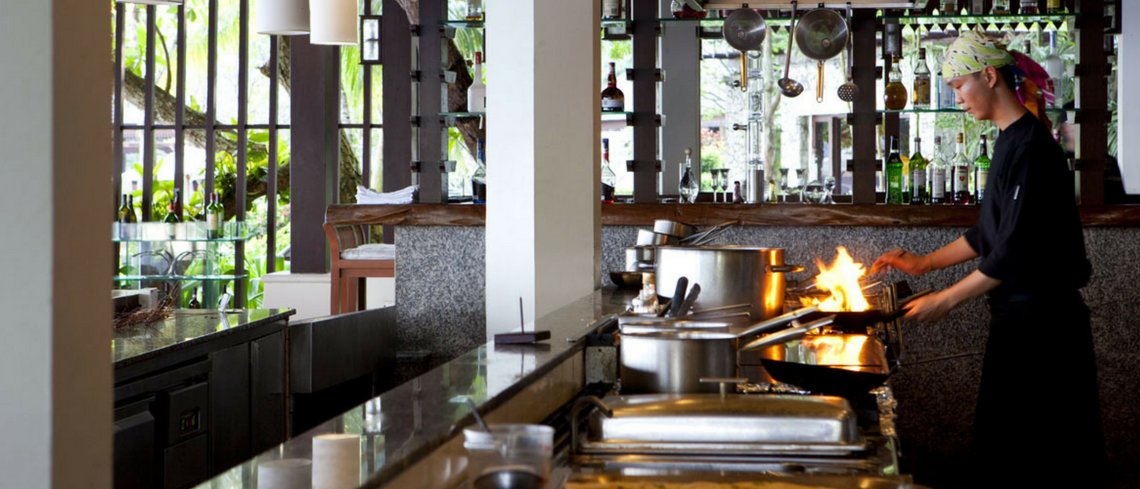 2) Sunset Cruise
Board Pangkor Laut's teakwood Oriental junk and set off for a sunset cruise and what is sure to be a magical evening. Sip on a range of refreshing beverages and nibble on some canapés as the boat sails around the island. You'll enjoy some stunning views as the setting sun bathes the water and island in a golden glow, making it appear somehow even more beautiful.

3) Yoga at Spa Villa Deck
There are so many benefits associated with yoga; the combination of physical postures, breathing techniques, and meditation helps to create both a healthy mind and body. You can improve your strength, flexibility, and muscle tone while also calming your mind and relieving stress. Yoga at Pangkor Laut take place on the Spa Villa Deck, where you can enjoy the calming effects of the sea breeze and views while you participate in the session, further enhancing its relaxing effects. Both your physical and mental wellbeing will feel improved after taking part.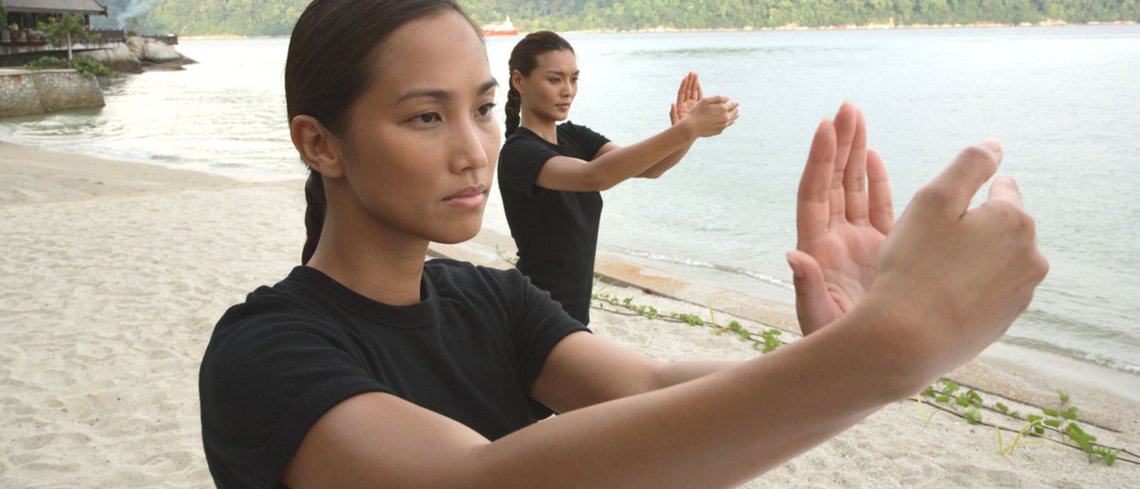 4) Fishing or Island Hopping and Snorkelling Excursion
Take to the sea for an exciting day spent fishing, island hopping or snorkelling. You'll board either the resort's 12-foot motorised boat or the teakwood Oriental junk, from which you'll be able to take in the splendour of the surrounding islands. Enjoy the sun's warm rays as you dine on a personalised picnic basket before choosing to go fishing or snorkelling in the crystal clear waters teeming with a variety of tropical marine fish.

5) Chartered Luxury Cruisers
Plan your own adventure and charter a route for one of Pangkor Laut's luxury yachts for what is sure to be a day of fun. Whether you have an intended destination or simply want to cruise around the waters, you'll have a fantastic time and get to take in some amazing views. Drop anchor wherever you like and enjoy a spot of fishing, a swim in the pleasantly warm waters, or just lounge on the deck and soak up the sun. When you get hungry moor at a bay and enjoy a delicious gourmet picnic. After a fulfilling day at sea return to the resort at dusk.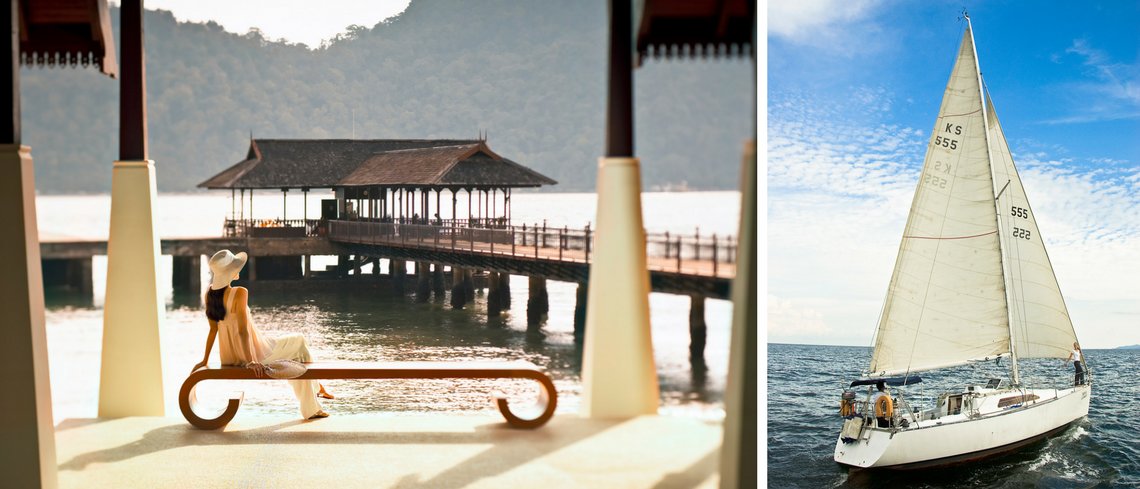 6) Spa Village Pangkor Laut
Pangkor Laut invites guests to enjoy a unique spa retreat at their Spa Village, where the treatments take inspiration from the land and other nearby countries. Using Malay, Chinese, Indian, and Thai practices, the spa ensures that it has an all encompassing approach to wellness. The programmes on offer combine physical and spiritual health and well-being and are based on one of four umbrella concepts: Rejuvenation and Longevity, Relaxation and Stress Reduction, Detoxification, and Romance. Any treatment undertaken at the spa is sure to leave you feeling refreshed and relaxed afterwards.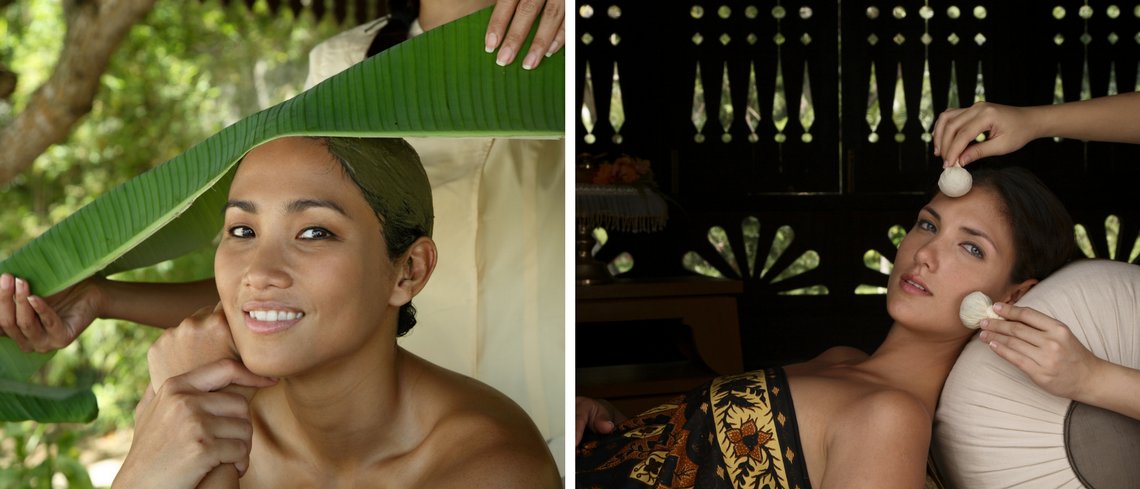 7) Walk in the Spectacular Virgin Rainforest
Get closer to nature and participate in a trek through the two million year old rainforest. Take in some amazing sights and view an array of exotic plants and wildlife. Your walk will be guided by the resort's resident naturalist who will be able to offer interesting insights into the different things you come across, making your trip educational as well as exciting. The resort has two different treks for you to choose from which vary in length and difficulty, ensuring that everyone who wants to take part will be able to.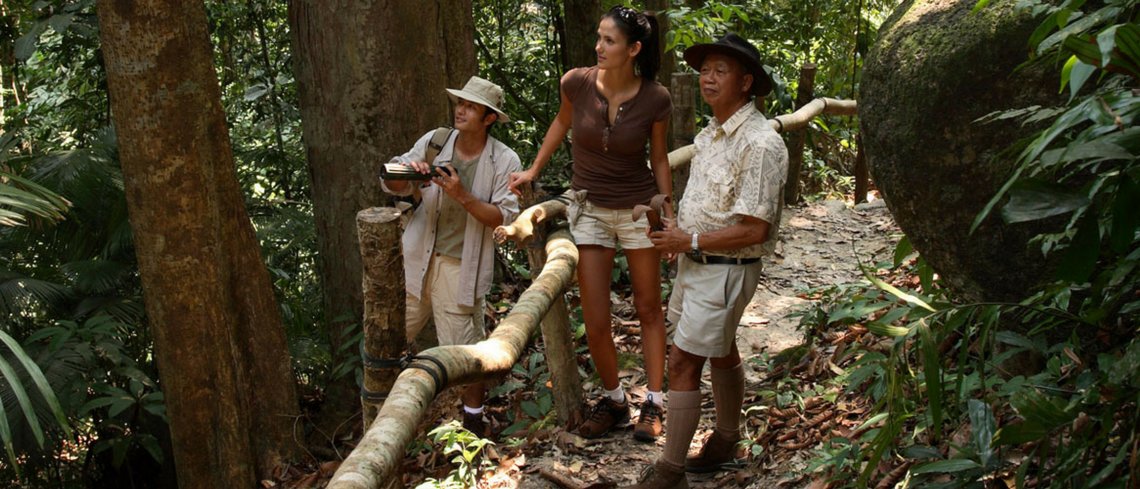 8) Pangkor Island Excursion
Leave the resort and spend a few hours visiting the nearby sleepy island of Pangkor, popular for its idyllic beaches, fishing boats, and seafood products. Take a look into Malaysian life and culture on this island with its colourful towns, traditional homes, and winding streets. To begin the excursion you'll take a speedboat over to Pangkor where you'll be met by a guide who will take you on an escorted tour of the 800-hectare island. You'll get to see the restored Dutch fort, a reminder of Pangkor's colonial history, and the hillside Taoist temple, Fu Lin Kung. The trip is sure to a memorable one and a highlight of your stay.
9) Private Dining
Pangkor Laut provides guests with many different dining options, but one of the more special experiences offered has to be the chance to dine privately on the beach under the twinkling stars. Enjoy a meal of barbecued lobster as you take in the coastal views and sounds of the waves gently lapping against the shore. This option is ideal for couples seeking a romantic evening.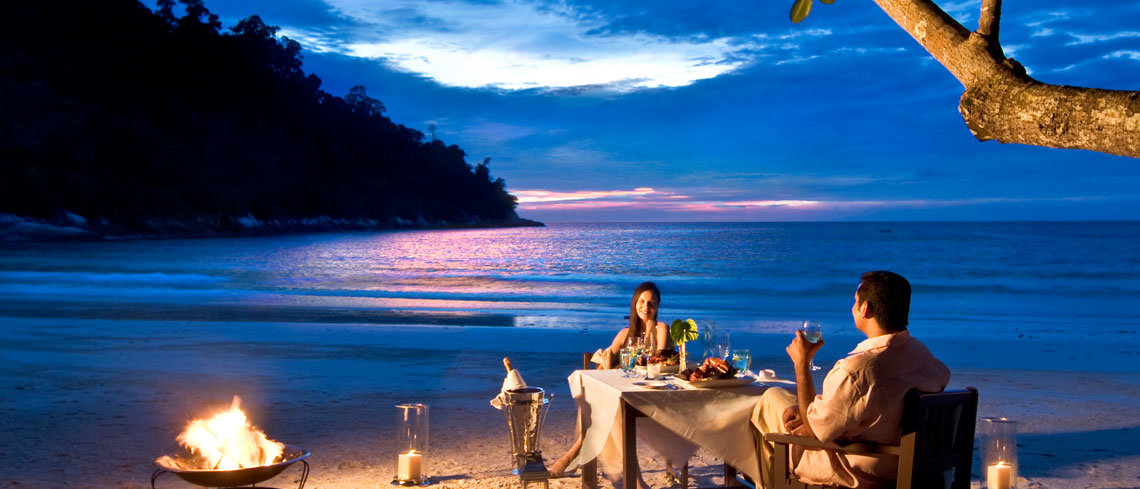 10) One Island, One Resort
Perhaps one of the greatest things about Pangkor Laut is that the resort occupies its own private island. The 300 acre island, of which 80% remains lush green rainforest, is a beautiful and serene location, perfect for enjoying an unforgettable holiday. The island makes an immediate and lasting impression on those who visit it, with one guest, Freddy Spencer-Chapman, even known to have wrote about his stay in his book 'The Jungle is Neutral'. Pangkor Laut Resort is a little slice of paradise off Malaysia's West coast that offers guests everything they could possibly need to enjoy a luxurious holiday.
To discover for yourself what makes Pangkor Laut Resort so special plan your own trip today by visiting our page or contacting one of our experts on 020 7843 3531.